Today we're sharing insight from guest blogger Amish Shah, President & CEO of Kem Krest. We hope you enjoy Amish's wisdom and perspective.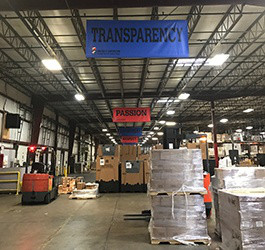 As a curious youngster my favorite word was "Why?" and the most disheartening response was "Because I said so!" While parents have every right to give direct commands without providing further details, (and frankly it would be exhausting if you had to debate every decision), an answer without context and understanding always leaves people unsettled and dejected.
That was also a common approach in business 30 years ago. Top down management often chirped out demands. The hierarchal structure was to not ask why, but to carry out orders as in an infantry platoon.
The world was simply a different place and the need for transparency was very limited. We hardly knew what was in our food, much less where it was grown and if it was grown using sustainable practices. Private businesses rarely shared financial information with anyone other than their accountants and auditors, and very rarely did they commit a percentage of profits to causes or charities. Consumer choices were somewhat of a black box as there was no really good way to compare pricing, quality, or service. And often, employees were not asked about their suggestions, ideas, or ways to improve process, customer satisfaction, or how to make a product better.
Today transparency matters. It's not just a nice to have, but a necessity. In some cases, it is governmentally mandated but in many others, it's just the right thing to do.
Consumers, employees, and citizens want to know details and they want to contribute in ideas. Crowdsourcing has gained popularity where companies will tweet to A/B test designs or new products resulting in real time market intel and buy-in from consumers. Employees want to have their voices heard in efforts to drive purpose and mission of their organization. Companies like Patagonia have full transparency in their supply chain, mostly to be accountable to their mission of using only sustainable raw materials. Zappos gives company tours and has written books about their secret to success. Whole Foods publishes everyone's salary so it's an open book. Anymore, companies who are not transparent are almost badged as they have something to hide, and with the speed of technology, information will eventually be posted somewhere if its deemed useful. (Ask Edward Snowden)
At Kem Krest, transparency is one of our core values. We have moved to a visual management system where we start our day with a "Shift Start" meeting. In this meeting all the key metrics are posted and action items are reviewed on a large wall. If someone is past due, it is seen by all. Social accountability becomes a driver as no one wants to be shown as a slacker. Financials are shared with all employees and they are taught the difference between revenue and profit. This helps to drive financial prudence and managing the company check book like it was they very own.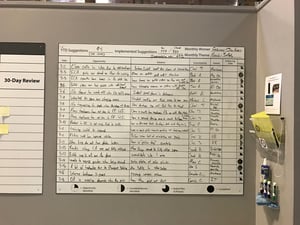 We have instituted a company-wide suggestion program where employee feedback is designed into our continuous improvement process. In 12 months, we have received almost 400 suggestions, half of which have been instituted. All suggestions are posted and internally available. Not only does this help the business, but it drives a sense of ownership through all levels of the company. We have even changed our business model where customer now have a full breakdown of our product/service costs AND our margin. When we are able to operate more efficiently, we give some of the savings back to customer. In previous years, we have given millions of dollars back to customers, while also growing our business with them due to the implied trust in our relationship.
It would be interesting to go back in time to when I was 8 years old and asked if I can eat all of my Halloween candy in one night. Instead of an argument ending in "No, because I told you so," my mom explained how excessive sugar can cause metabolic dysfunction which could lead to obesity, diabetes, and extreme hyperactivity. While this form of transparency probably wouldn't have mattered, I might have better understood biology and physiology.


What's The Risk?
Like everything in life, there needs to be reasonable standards that apply. Disclosing everyone's salary might not be the best idea for all companies, and sometimes the blunt truth isn't always appropriate (ex. Do these jeans make me look curvy?) There are exceptions to every rule. But today's society is more information-driven than ever. The accessibility of information is too easy, and some of the information is not accurate. By providing transparency you can ensure the data is accurate. Being transparent engages others, builds trust, and enables greater accountability. If you choose not to be transparent people might flock to those who are. We demand transparency in our government, food, schools, and non-for-profits. Why wouldn't we do the same in our businesses?
This content was written and shared by guest blogger, Amish Shah.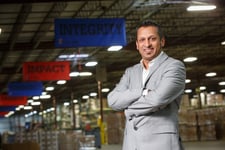 Amish Shah is the CEO of Kem Krest which is headquartered in Elkhart, IN. With over 500 employees and 12 facilities across North America, Kem Krest manages the supply chain for companies like GM, Chrysler, Harley Davidson, Nissan, Hyundai, John Deere, Ford, and others.
Connect with Amish on LinkedIn or Twitter. Connect with Kem Krest via their website, Facebook, or LinkedIn.