Today we're sharing insight from guest blogger Chad Peterman, President and Co-Owner of Peterman Heating, Cooling & Plumbing. We hope you enjoy Chad's wisdom and perspective.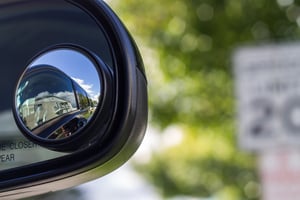 Blind spots are, by their nature, very frustrating. The main reason is because we cannot see a blind spot. We are oblivious to them. In leadership everything compounds. The impact we have multiplies by affecting those we are leading. Unfortunately, blind spots can compound our impact in a negative way.
Oftentimes our blind spots come in the form of our strengths. We may be great at getting things done. We may find fault in others who cannot get things done like we can. This creates a blind spot and inability to connect with that person. John Maxwell says, "We often see people as we are, not as they are." This is the root of all blind spots.
If blind spots are so detrimental, how do we overcome them so that they don't have a negative effect of our leadership ability? We must first understand that we need to be humble, coachable, and patient.
When it comes to being humble, we must be willing to admit that we do have shortcomings. We don't know it all and everyone has blind spots. Humility will allow us to first discover the blind spot. We spend most of our lives trying to avoid or overcome things that are holding us back. We must first look in the mirror and understand there is always work to do.
Being coachable refers to the fact that we are going to have to work on the blind spots and it isn't going to be easy. It is going to pull us out of our comfort zone. We are going to want to revert to old ways. But being a leader means you have to be the most coachable person on the team. The more you adapt and take coaching, the more you will connect with your team.
Patience is the understanding that leadership is an infinite game. A true leader never stops leading. We are always working to improve and be better for our people. Overcoming blind spots is going to take real work and it isn't going to be easy. Blind spots are often a result of how we are naturally wired. To undo this internal wiring takes time and most of all, patience.
One piece of advice John Maxwell gives in his teaching is to ask the question, "What am I missing?" As leaders, our effectiveness is often rooted in the caliber of questions we ask. This particular question opens us up to revealing our blind spot. Does the person we are leading see things from a different perspective? Do they have an experience that has led them to a different conclusion you may not see? Not having all the answers is not a weakness in leadership; refusing to ask the right questions is and will leave a leader vulnerable to blind spots.

What's The Risk?
As leaders, we must be humble, coachable, and patient in order to uncover our personal blind spots. If we work solely to get others to see only our point of view, we will stagnate our own growth and that of the team. Title and/or position don't mean you get to tell everyone what to do. Quite the opposite. You are responsible for asking all the great questions that will direct the team in what to do.
Go ask a great question of someone on your team today!
This content was written and shared by guest blogger, Chad Peterman.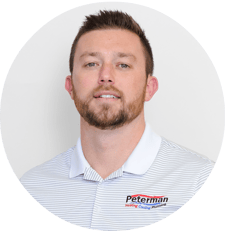 Chad Peterman is the President and Co-Owner of Peterman Heating, Cooling & Plumbing. Under the leadership of Chad and his brother Tyler, Peterman has grown to a company of over 130 team members serving the Indianapolis, Lafayette, and Columbus, Indiana markets. Peterman has earned a position on the Indy Star's Top Workplaces List four consecutive times, the Indianapolis Business Journal's Fast 25, Plumbing & Mechanical Magazine's Residential Contractor of the Year in 2019, and the Inc 5000 list in 2019. In 2019, they were also awarded the Medal of Excellence Award by Bryant Heating and Cooling Systems as one of the top Bryant dealers in the United States.
Chad has shared the stage with the likes of Cordia Harrington, Steve Forbes, Alan Mullaly, Ken Fisher, and Dan Kennedy when it comes to sharing his message about how growing your people will ultimately grow your company. Chad has also authored two books, his most recent being "Can't Stop the Growth: How to Build a Culture That Takes Care of Your Customers." He also hosts the weekly podcast "You Can't Stop the Growth."
Chad lives in downtown Indianapolis with his lovely wife Emily and their beautiful one-year-old daughter Blake.
Connect with Chad via LinkedIn. Connect with Peterman Heating, Cooling & Plumbing via their website, LinkedIn, Twitter, and Facebook.