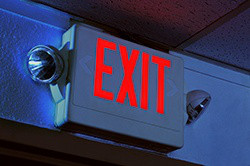 At work, do you know how you'd escape in case of emergency? What about when you're staying at a hotel – do you take time to identify the nearest exits? Or when you arrive at a crowed event?
It doesn't matter whether you're a safety supervisor, event planner, facilities manager, company executive, restaurant manager, or just an individual entering a building – clear exits are critical.
Time and time again, I walk into a building to find exits and exit routes blocked. This poses a significant risk to all who enter the space. How can you safely exit in an emergency if the door is blocked? Or there are chairs filling the corridor?
Unfortunately, many people don't appreciate the concern until they experience an emergency situation where people have to rush out of the building – be it a fire, explosion, active shooter, or other crisis. They instead focus on the building's function, the aesthetics of the room, how to fit more people in the space, etc. Consider these examples:
A high school is hosting a basketball game. There are numerous exits from the gym, but there are a handful they don't want students to use so they chain them shut or lock the doors. That is not okay! You can put a sign on the door or station a person there to inform guests it is not to be used as an exit – but you cannot lock it. It is an emergency exit and must remain accessible.
A collegiate organization is hosting a large fundraiser. The students are running the show – they have facilitated all the preparations, design, and set-up for the event. They are thinking about how to make the space look aesthetically appealing. They adorn the walls with decorations, not paying attention to the exits signs they are covering up. Again, this is not acceptable.
You are a restaurant owner. As your restaurant grows in popularity, you try to increase the number of tables in the space because more tables and chairs mean more room for paying customers, right? You don't see an issue with blocking one door because there are still several other exits – and if an emergency occurs and you need that exit, you'll just move the table. But this is an issue. The blocking of any exit is not permitted.
There is an event being held in your office. Your team is trying to make more space and has to move stacks of chairs and a couple tables in order to do so. They figure the hallway is an okay place to store them, it is just one day. Wrong. These items are now cluttering an exit route, preventing safe escape to you and your guests in case of an emergency.
There are OSHA standards as well as building and fire codes regarding exits for a reason. Not only do first responders need a way to enter and exit the building in case of emergency, but your people need a way out…a fast and safe way to evacuate!
OSHA standards 1910.36 & 1910.37 discuss the design and construction requirements, as well as maintenance, safeguards, and operational features for exits and exit routes. This OSHA fact sheet provides a great overview of the requirements; I'd encourage you to check it out.
The responsibility to ensure exits are clear and visible doesn't just fall on a building's owner or your facility's safety manager – it is the responsibility of everyone.
Before you can expect your employees to speak up when they notice a concern or for them to take the personal responsibility to keep exits clear – you need to educate them! Explain to them the importance of clear exits and review the OSHA requirements on the design, construction, maintenance, and safeguards. The building owner is responsible for educating all occupants about the need for all exits and egresses to be clear at all times. You must show what a clear exit represents – no partially blocked doors and a clear span/opening around the door. Education can go a long way to developing a changed mindset and a safety culture.
Don't wait until a crisis strikes. Taking time to educate yourself and your employees on emergency exits can help improve workplace safety!