Today we're sharing insight from guest blogger, Steve Husk, Owner of Circle Health Partners, Inc. We hope you enjoy Steve's wisdom and perspective.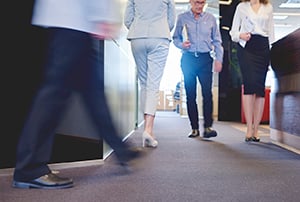 I recently relayed a story to a dear friend at Gibson about my earliest days managing a department for a large, local insurance company beginning in 1983. I shared that I had figured out how important it was to manage by walking around…little did I know that a similar term had been coined around the same time in the 1980s and recently shared in this blog. I am excited to know it's not just me. Some very smart authors independently discovered what I did—that you must see it for yourself and poke around to get a complete picture of what is going on in your operation.
In my case, I was a freshly minted college graduate looking for a job in my field of study—finance. However, banking jobs in the early 80s were scarce, and I found myself networking my way into a job at the fast-growing insurance company. I was delighted to be able to document procedures and interview the team members of a department of over 120 people. Pretty soon I was sharing my observations with the Senior Vice President and quickly found myself in place to lead the department. While I was flattered, it certainly wasn't my expectation. I dove into the job, meeting with the 9 supervisors who reported to me to determine what we needed to do to improve new application processing times. This company had made a name in the industry by using common sense management to process claims quickly; the new business department needed better oversight to achieve the same success level.
Each week I would meet with the supervisory group and discuss the goals and receive the assurances we would be on "time service." Each week we would, instead, fail to meet the goals. The confidence in my ability was waning and I was hearing rumbling from other executives that maybe I wasn't cut out for the job. Rather than give up, I relied upon what I had learned from my parents: stay cool and learn the source of the issue. So, each evening after the supervisors left I would "walk around" the department. It was easy to locate the problems: there were several files stacked up to be processed that had zero chance of being handled in time; and therefore, no way we would be able to meet time service despite the rosy picture painted in the weekly meetings. I would take the problem files and stack them on each department supervisor's chair with a note asking them to see me first thing the following day.
To say they were upset is a bit of an understatement. I heard excuses about how those files were special, they shouldn't be counted, etc. Together, we found common sense solutions to each of the objections and within one week--one week--we were on time service. This isn't a glory statement about my superior intelligence; rather, it is to shed light on a few important lessons:
To get the clear story, you need to see it for yourself. There are many reasons you won't get the clear story from people and none of them really matter. What really matters is the business problem.


If you can't explain it to me so even I can understand it, you don't really know what you are talking about. A common problem was with the lack of clear understanding of certain details about the process flow, the time allowable for each step, etc. It is a key to test the knowledge of your presenter to be sure they can break down to any level; after all, they also must explain it to their employees.


Take the emotion out of it. Once the fear of discovery or failure was gone, and we were focusing on the business problem, the solutions came relatively easily. Humans have faults and you must work to get them out of the way to solve the issue at hand.


Everyone enjoys being on a winning team. Once we were on time service, the department was known as the "movers and shakers" of the organization. They were proud, and rightly so. No one lost their job; and, no one was ridiculed regarding the files in their department. We just worked together to solve the problem.
What's The Risk?
The risk is in not getting out there to discover what is going with your people. Without taking the time to see for yourself what is happening in your organization you may very well miss the root cause of an issue and prevent your team from overcoming that obstacle.
I challenge you to set aside some time next week to walk around – you won't regret it!
This content was written and shared by guest blogger Steve Husk.
Steve is an Owner / Principal of Circle Health Partners, Inc. headquartered in Indianapolis. He has 36 years of experience in the health insurance industry, serving in Senior Management / Senior Officer positions for over 34 years. In addition, he has over 29 years of comprehensive wellness program experience serving a wide variety of industries.
He is experienced in working with trade associations / trusts, single employers, financial institutions, schools, public employers, hospitals, manufacturers, law firms, agricultural, and more. His work has included self-insured plans, fully insured plans, minimum premium funding arrangements, and various ancillary plans.
Steve has been married to his lovely wife Sandy for 30 years, and they have two incredibly beautiful and talented daughters, Ashley and Chrissy.
Connect with Steve on LinkedIn. Connect with Circle Health Partners, Inc. via their website, LinkedIn, and Facebook.