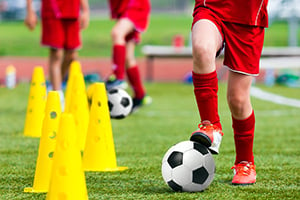 Spring has sprung and for many that means outdoor sports are about to begin! April is National Youth Sports Safety Month and a great opportunity to bring awareness to keeping our kids safe when playing sports.
Did you know?
1.3 million children, 19 and under, were seen in the ER for a sports-related injury.
90% of sports-related concussions occur without loss of consciousness.
More than 38 million children participate in sports each year in the United States.
One in three children who plays a team sport is injured seriously enough to miss practice or games.
Girls are up to eight times more likely to have an ACL injury than boys.
Most organized sports-related injuries (62 percent) occur during practice rather than in games.
The most common types of sports-related injuries among children are sprains, muscle strains, bone or growth plate injuries, repetitive motion injuries, and heat-related illness.
Preventing sports injuries should be a priority for parents, coaches, and the young athletes. Here are five important tips from Safekids.org for preventing sports-related injuries:
Before playing organized sports, make sure young athletes receive a pre-participation physical exam, or PPE, by a doctor. This can help rule out any potential medical conditions that may place kids at risk.
Bring a water bottle to practice and games. Encourage children to stay well hydrated by drinking plenty of water before, during and after play.
Stretching before practice and games can make a big difference by releasing muscle tension and helping prevent sports-related injuries, such as muscle tears or sprains. Make sure there is time set aside before every practice and game for athletes to warm up properly.
An off-season is important, too. It is recommended that kids get 10 consecutive weeks of rest from any one sport every year. Playing different sports throughout the year is OK.
Coaches should be certified in first aid and CPR, learn the signs and symptoms of a concussion and help avoid overuse injury by resting players during practices and games.
With so much going on, feel free to download and print off the "Parent's Sport Safety Checkilist" at www.safekids.org.