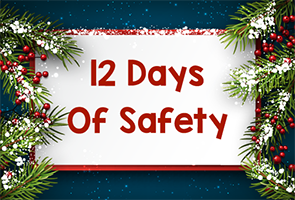 On the first day of Christmas my true love gave to me…safety tips! Don't let the hustle and bustle of the holiday season distract you from keeping your family safe.
Inspired by the National Safety Council's The 12 Days of Safety poster, below is a list of 12 things you can do to make sure you're protected this season. From fire prevention to personal safety tips, these guidelines are essential for those who want to stay jolly through these winter months. So while you're dashing through the snow, take the time to read this list of safety tips and make sure to check it twice!
Before you go lighting those pumpkin spice-scented candles, make sure that they're kept clear of trees or boughs. Don't let your holiday go up in flames!


There's nothing that gets you in the holiday spirit like a festive wreath, a sprig of mistletoe, or a beautiful poinsettia. But don't neglect your four-legged family members this season. Make sure poisonous plants and decorations are out of reach of your pets!


Chances are it won't just be your passion for the holidays that'll be burning this season. Make sure to keep trees and flammable decorations away from fireplaces, radiators, and other heat sources.


Ensure that snow will be the only thing falling this winter! If you have a tree, double check that it has a stable platform to keep it upright.


Prefer an artificial tree? A wonderful way to prevent potential fire damage is to purchase a faux tree that is labeled as fire resistant.


If you have a real tree, make sure to keep it well-watered to prevent it from drying out and becoming more flammable.


While your neighbors may be envious of your killer holiday light display, your attention should be on those wires. Keep an eye out for fraying, bare spots, gaps in the insulation, or excessive kinking.


Though nothing is more magical than a holiday tree lit up at night, keep unattended lights and plug-in decorations turned off as often as possible. This will save energy costs and keep accidents from occurring without your notice.


Don't overextend yourself this season – literally! Instead of balancing on your tiptoes, use a step stool or ladder to reach high places when decorating.


Holiday parties are always a must-have, but if your guests are drinking, the only thing they should be steering is a sleigh. Always appoint a designated driver to ensure your guests will get home safely.


There are a lot of things that should be shared during the Christmas season, but germs aren't one of them. When preparing holiday meals, make sure to continually your wash hands, utensils, sinks, countertops, and anything else that touches raw meat.


Sometimes the most satisfying gift you can give yourself is the gift of holiday leftovers. During the coldest season of the year, make sure to keep your food piping hot! Reheat leftovers to at least 165 degrees Fahrenheit in order to kill bacteria and ensure that it will be properly cooked.
Don't let holiday mishaps turn you into a Grinch. These easy tips will keep you and your family merry all season long!