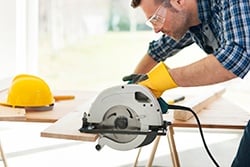 Power tools can seem like a common part of our lives – so we often overlook the hazards they can pose. But these tools can cause serious injuries when they are not maintained or used properly.
Many of the issues stem from misuse of the tools. Whether it is from lack of proper training or perhaps the development of unsafe habits – it is a problem needing attention.
What Are The Issues?
The Power Tool Institute identifies three major causes of power tool injuries:
Inattention or Complacency

- Hurrying to beat deadlines increases the risk of accidents and injuries. No matter how competent and confident the operator, he or she must not allow himself or herself to become complacent.
Unexpected Events

- Because most power tools operate at high speeds, when things happen, they tend to happen very quickly. Unexpected events are more likely to end badly when operators are inexperienced, plan poorly or don't understand how a particular tool works.
Inexperience or Overconfidence

– Accidents involving novices are most often caused by a lack of necessary safety knowledge and/or respect for what a tool can do. The inexperienced tool operator may fail to identify a potentially dangerous situation. But experience, although a good teacher, can lull us into overconfidence. The foolish risks we then become willing to take can inflict very painful lessons on us and our families.
Taking Action
How can you help address these issues with your workforce? Train your employees on the proper use of tools – ensure they know how to recognize the hazards and understand safe working procedures. But it doesn't stop there. Remember, accidents are not limited to the novice users. Even if your employees regularly use these tools, they still need refreshers on the safety practices and potential hazards.
OSHA recommends the following precautions for using power tools:
Never carry a tool by the cord or hose.
Never yank the cord or the hose to disconnect it from the receptacle.
Keep cords and hoses away from heat, oil, and sharp edges.
Disconnect tools when not using them, before servicing and cleaning them, and when changing accessories such as blades, bits, and cutters.
Keep all people not involved with the work at a safe distance from the work area.
Secure work with clamps or a vise, freeing both hands to operate the tool.
Avoid accidental starting. Do not hold fingers on the switch button while carrying a plugged-in tool.
Maintain tools with care; keep them sharp and clean for best performance.
Follow instructions in the user's manual for lubricating and changing accessories.
Be sure to keep good footing and maintain good balance when operating power tools.
Wear proper apparel for the task. Loose clothing, ties, or jewelry can become caught in moving parts.
Remove all damaged portable electric tools from use and tag them: "Do Not Use."
Additional Resources