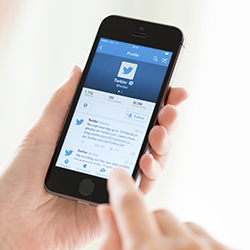 Tweet, retweet, hashtag. This could sound like a foreign language to you. But most likely you have at least heard these terms in some context since there are over 271 million active monthly Twitter users.
Twitter is not for everyone. It is a fast-paced social network and has its own world of terminology, but it can offer immense resources for you and your brand. Take some time to determine if Twitter is right for you.
If you've decided to give Twitter a try, the following are tips for you to consider.
Do more than retweet. Share some content yourself. We're not saying you need to write blogs. Sharing your thoughts or experiences outside of a retweet is good for your audience to see.
Where do you find content? Pull content from email newsletters you receive. Take a quick look, and if you see something you like – share it! What about a company blog for your organization or others you work with? Share their posts. Search Twitter for hashtags, lists, and users related to your topic. You'd be surprised at how much content and conversation you can discover.
Tag relevant people and hashtags in your tweets. If you are sharing a link to content written by someone else, try to reference the author and/or publication. You could use this simple format: [Title of content] [Web address] @author @publication and then throw in a few relevant hashtags. As you get more comfortable with Twitter, take a few seconds to make the posts your own – add in a comment about the article or perhaps paraphrase a line or main point instead of simply writing the title.
If you're writing your own tweet – say an event you're at, be sure to take a few seconds to find the relevant people, companies, and hashtags to include. This will increase the likelihood of those involved with the event seeing your tweet. They may then choose to reply to you, retweet, or favorite – all of which will help you get more awareness.
Not sure how to use hashtags? There are numerous resources available to teach you about what hashtags are and how to use them, including this LinkedIn post.
Be consistent. You don't have to tweet all day every day, but Twitter is an extremely fast network. If you are not sharing any content or engaging in any conversations for several days, you can fall behind. But most importantly, you will not be able to get the full benefits unless you establish some consistency with your activity.
Find ways to incorporate a little Twitter time into your week. You could use a scheduler to help ensure you have content being shared throughout the week. Perhaps start a weekly post. There are several pre-established days in the social media already such as Throwback Thursday and Follow Friday. But you can create your own! Maybe you want to start each week with a quote, or a little fun fact or trivia one day – go for it!
Respond to people. If they follow you, take a look, see if you want to follow them. You don't have to follow everyone back – but if you never respond to anyone, people will lose interest.
If someone mentions you in a tweet – retweet it, favorite it, or reply to them.
Please, pretty please do NOT start a tweet with an "@..." unless you really do mean to only reply to that person. In general, when you compose a tweet it is displayed on the newsfeed of anyone who follows you. This makes it more accessible and creates more opportunities for people to notice it and interact with you.
If you click the "reply" button, Twitter automatically includes the username(s) mentioned in the original tweet. If you leave those username(s) at the start of your message, you will be replying directly to those mentioned. Those users will receive notification. But your tweet will NOT appear on the newsfeed of those who follow you.
Therefore if you are not intending your tweet to be a reply to only a specific user or users, then be sure to start your tweet with something before the "@" sign. It could be as simple as placing a period before the ".@".
Use lists. The Twitter newsfeed is overwhelming. Do you really expect me to have time to read all of those tweets? No. And you don't have to! You do NOT have to read every tweet out there.
Make lists. Or even easier, subscribe to other people's lists. You can open up the list and view it as its own newsfeed. For example, we keep a Twitter list of our community partners to follow what they are tweeting throughout the day.
Check ur spelling…and check it again. Once you hit that "tweet" button you cannot edit your tweet. If you make an error or want to change something, you have to delete it and start again. That's okay if you notice the error right away but it's annoying later on if you have to delete a tweet others have already engaged with.
Remember, this is your personal brand. It is okay to share personal items about you, your family, and your hobbies. But remember, everyone can see this. Make sure your posts are in line with your brand. And if your account is being used for work purposes as well – you are also representing your company. Stay away from controversial topics and heated discussions.