Kobe Bryant ____________. How would you finish that sentence?
is fourth on the NBA's all-time points leaders list
captained the US Olympic gold medal team in 2008
was once a regular season and twice a finals MVP
led the NBA in scoring two years in a row
has been named to 14 All-NBA teams
is a five-time NBA champion
has missed more shots than anyone in the history of the NBA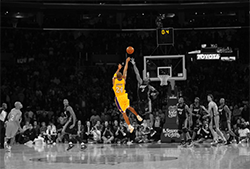 Wait a second. Whaaaat? Kobe Bryant, the cold-blooded Laker scoring machine of the past 19 years, has missed more baskets than anyone ever to play the game? Yes. And it's a record he's likely to hold for a long, long time.
On November 11, 2014 with 6:22 left in the fourth quarter in a game against the Celtics, Kobe missed a 14-foot fade away jumper from the left side. This gave him 13,418 missed field goals for his career and sole possession of the record. According to ESPN, Bryant has missed at least 20 shots in a game 44 times!
After the game, he was asked about the dubious record. "Well, I'm a shooting guard that's played 19 years," he said, shrugging and smiling. Let me translate that for Kobe: "Duh!"
I'm not a Lakers fan. In fact when I was a kid, growing up in a Sycamore household, I was allowed to stay up late and watch our beloved Larry Bird take on the Showtime Lakers of the 1980s. But over the years, I begrudgingly grew to respect and admire Kobe Bryant the basketball player. According to one source, the guy has made a league leading 36 game-winning shots in his career. By the way, this YouTube video shows 28 of them, including a few personal heartbreakers against my Pacers and Suns.
So perhaps the greatest closer in the history of the NBA has also missed more than anyone else? What does this tell us about life and business?
I say it's about survival.
True, they don't make YouTube collages to honor 13,000+ misses. We of course focus on the wins. And especially the big shots he made. But Kobe also naturally missed a lot of game-winners. In fact, Kobe has only made about 3 out of every 10 game-winners he's attempted.
So what does that have to do with survival?
For starters, a 19 year career (and counting) in professional sports is amazing in its own right. Kobe has mentally and physically prepared for every season and every game. He has faced adversity in his personal life and serious injuries. He's getting older. He's slowing down a bit. He's not even the Kobe of 2010 anymore. But here he is, night in and night out, with millions of dollars in the bank and more accolades than nearly anyone of his era, still competing, still fighting, still shooting and often times, still missing.
"You can't be held captive by the fear of failure or the fear of what people may say," Kobe said after the game, unfazed by his latest record. When the reporters couldn't get Kobe to bite, they moved on to his coach Byron Scott.
"I don't care about that crap, and I'm sure he doesn't, either," Scott said. "I don't mean to cut you off, but to me it speaks of his aggressiveness and his longevity."
Well said Coach Scott. You don't sit 4th on the all-time scoring list (likely surpassing Michael Jordan later this year to move into 3rd) without being very good for a very long time. There have been lots of great shots, great games, and even great seasons in the NBA. But few players have put together the entire body of work that Kobe Bryant has.
You see, Kobe isn't focused on what happened before. He can't remember the last miss. All he knows is the next chance he gets, he will take the shot, and he believes it is going in. Nineteen years of Kobe and nothing has changed.
In fact, last week Kobe had his 20th career triple-double to lead L.A. to an overtime victory over Toronto. In the game he became the first player in NBA history to top 30,000 points and 6,000 assists. Said Kobe of his latest honor, "It means I pass more than what people say."
Big awards, rankings, all-time lists: they captivate our attention and create great conversation. But you won't ever get a chance to take (let alone make) the big shot if you aren't in the game. And the game after that, and the one after that.
Survival defines greatness in its very own way. "Surviving" may not sound all that inspiring relative to modern "business speak," yet think about what it means:
You have

true grit

–

determined to forge ahead
You have resolve – in the face of adversity
You worked well with others – as they continued to want you around
You added value – or you wouldn't still be in it
You acquired wisdom – the great reward for longevity
You took care of yourself – mentally, physically, and spiritually
You never gave up – even when you could have
You were committed – for the long haul
What's The Risk?
The risk is that you're playing for the single shot or game and not for your career or a lifetime. You're defining success by a "miss" that happened once or twice, or even 13,418+ times in the case of Kobe Bryant, when you really need to take a step back and appreciate the entire story. It's not about pages or chapters. It's about the whole book.
Or as Kobe remarked later that night to another reporter's lame question about the record, "Like I said, shooting guard, 19th year."