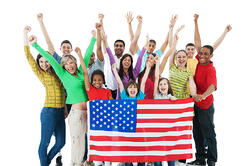 As a business owner, I find my thoughts often gravitating to an area I feel very deeply about – taking care of others. At Gibson, we take care of our clients every day – it's our core business to help them Protect What Matters Most. As CEO of Gibson, Ialso feel paternalistic in my responsibility to provide a great opportunity for our 100 employees. The other executives and I spend a great deal of time considering how our decisions might impact the long-term connection we strive for with our team.
I was chatting with my partner and Gibson's CFO, Keith Stone. He's also the lead trustee for our ESOP - GESOP as we say in "Gibson speak". I asked him what he thought about the subject. Without hesitation, he said "You know what, I feel really good about the way we consider our employees in all we do. Creating the GESOP in 2010 was probably the best thing we could have done for our people over the long haul."
My feelings mirrored Keith's but I asked him why he felt that way. He said, "That's easy. The opportunities that are presented for our employee-owners through the GESOP are amazing. And it's not just Gibson. The National Center for Employee Ownership (NCEO) says ESOP companies grow faster, and are more profitable, after forming their ESOPs than before. And employees at ESOP companies typically have something like three times the retirement assets as non-ESOP companies. That's a great deal for our people!"
He is right. We've even seen this in the short time we've had our GESOP. Our employee-owners saw large increases in their GESOP balances in 2013. Thanks to great clients, a healthier economy, and our strong results, everyone "tripled down" in 2013: the GESOP received a bigger dividend, our stock price increased substantially, and we were able to make a higher profit sharing contribution.
While 2013 was a great year for our employee-owners; there are lots of other ESOPs that have made the pride of ownership real for their people. Keith has been attending the annual national ESOP convention and went on to say, "ESOPs really are terrific, and they are much more prevalent than a lot of people realize. I believe there are 12,000 ESOP companies out there covering over 11 million employees."
Wow! That's a lot of companies contributing to opportunities for the American Dream for their people. We're proud to be one of those companies. I feel really good knowing we've created this for all our owners. Of course, we have to perform well to realize those opportunities, but I feel equally good about our prospects of doing so with the team we've assembled. They are the best in the business! It's a great arrangement: we take care of our employees by helping foster the right kind of environment, and in turn, our employees take care of our clients. As one ESOP company put it, "All of our customers are served by an owner every time." Talk about a win-win!
What's The Risk?
The risk is operating your organization without regard to the key role engaged employees play in your success. For us, they're our front line. They're why our clients continue to do business with us. In fact in my role as CEO, I feel an obligation to our clients to take great care of our employees.
As the Gallup organization says, "What workers truly want is an intrinsic connection to their work and their company. That's what drives performance, inspires discretionary effort, and improves well-being."
We found an ESOP to be a great way for our employees to feel deeply attached to our organization. But it's not a fit for everyone and surely not the only way to foster long-term engagement. That's where we can learn from each other. In fact, I'd love to hear what your organization is doing to drive this connection. Please share in the comment section below.