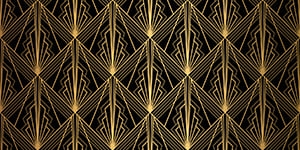 A new year and new decade are upon us. I've noticed social media already calling it the #roaring20s.
A recent opinion piece in the WSJ recalled the energy and creativity of the original Roaring 20s: "These remarkable 10 years saw the rise, all at once, of the world's great cosmopolitan cities—New York, Chicago, Paris, Berlin, London. Music, art, drama, literature, ballet, architecture, movies, newspapers—it's hard to grasp the creative radiance and energy of the decade."
And just like in the 1920s, we have major political and cultural battles over taxes, tariffs, and traditions. Many are not prepared or willing – just like a century ago – to deal with the coming reality.
The previous era was known for creativity and new thinking about everything. Whether the 2020s will earn the title of roaring or not, with certainty I predict they won't be the #boring20s.
What will this mean to the way we work and live? The 4th Industrial Revolution is here. New and ever evolving technology will augment our jobs. Industry 4.0 will be one of fluid gigs and decentralized workforces, requiring a lifelong pursuit of learning by workers and employers who can connect purpose with production.
Complexity and uncertainty will become our new normal. In many ways, they already have.
Some – organizations and individuals – will respond with even shorter types of thinking and action. While others will play the long game, using an infinite approach.
No doubt the game will be played differently, and also electronically. To stay relevant, we will need to perform weekly upgrades on ourselves, just like our computers. And new games will mean new rules.
How ready are we? I'd say the majority of us are not prepared for what is coming, good and bad. Borrowing from Brené Brown, it's time we have a rumble with our readiness.
For Brown, a rumble is committing, without ego and bias, to a vulnerable and fearless conversation. Readiness requires being (a) fully prepared for something and (b) willing to do something.
We need to honestly assess our state of readiness and begin preparing our companies and our people for the 20s and beyond. While genuine uncertainty looms, the good news is it represents, as the economist Frank Knight wrote, "the only real opportunity for profit."

What's The Risk?
The stakes are higher than ever, and so are the potential rewards. For the unready – those unwilling to learn and adapt – short term thinking will prevail as companies and individuals move from one finite game to another. As teamwork and trust fade, your workforce will no longer feel safe. It will be the #horrifying20s.
On the other hand, for "the ready," I predict an amazing ride. Those who are truly prepared and willing will not only survive but thrive in the long game. Their readiness will breed a spirit of indomitable resilience. They will stay curious, focusing on being better, not the best. They will harness the power of an abundant mindset, appreciating the real winners are those still playing. They will learn, grow, and be in the #soaring20s.