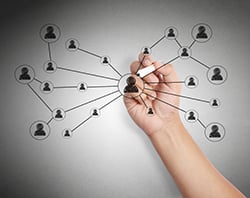 The FBI defines an active shooter as "an individual actively engaged in killing or attempting to kill people in a confined and populated area." Unfortunately, we have become all too familiar with active shooter incidents in recent years, especially in schools.
According to "The State of School Safety in America" report by SchoolReach, most school administrators surveyed felt well prepared to handle emergency communications with parents, but very few said they felt very prepared in regards to crisis communications, especially with the media. The first priority in a severe crisis, such as an active shooter situation, is ensuring the safety and well-being of students and staff. But crisis communication becomes key once the individuals are safe.
If communications are poorly handled they can result in panicked parents rushing to the school, the spread of misinformation and rumors, and it can undermine the credibility of your organization. The following are strategies to consider when developing your crisis communication plan. Though these are specifically focused on schools, they can also be applied to businesses.
Your Plan Is Not Simply A Couple-Page Document
A successful crisis communication plan cannot be outlined in a few pages. It requires much more than that. The plan needs to anticipate the various crises you could encounter and the precise steps you will take to communicate during and after each type of crisis.
How will you notify parents? Then what stakeholders do you need to notify next, and how? What if there is power failure and you are unable to access the school computers or networks, what is your back-up communication? Who is going to serve as the spokesperson and speak to the media? Who will be trained as their back-ups?
The questions go on and on. The time to consider all of these questions is now. When a crisis happens you want to focus all of your time and energy on securing your students and staff, then effectively communicating with stakeholders and the community. You can prepare pre-written statements for text notifications, email messages, and website announcements. This provides the foundation for your messages. Then in a time of crisis you only have to add in a few specifics regarding the incident.
Effective Crisis Communication Is More Than Text Message Notification Systems
Text or phone message notification systems have become a regular component of school communications. They can be helpful in notifying parents about weather delays or cancellations, important schools news, and emergencies. But for severe crises, several additional layers are needed to effectively manage communication. Examples include: email blasts to pre-prepared listservs to notify parents, employee families, or other stakeholders; regular updates to the district website and social media; and communication with local and national media outlets.
Don't Forget Language Or Other Access Barriers
Does your school community have a large population that speaks Spanish? You should be prepared with translated messages to effectively spread the news to students, staff, parents, and guardians. What about individuals with hearing disabilities? Are you prepared to include a sign language interpreter at press conferences or community meetings? Or do many of your families not have regular access to computers? Access barriers are another reason not to restrict your communications to one form of media – using a variety of media outlets will help ensure that your message reaches everyone.
Be Prepared For Press Conferences
You can generally expect news outlets to reach the school within 30 to 60 minutes of an incident. Be prepared to provide them with a press conference as soon as possible. Designating a spokesperson is critical. Your top administrator should be involved in managing the crisis, so look to designate someone else as the spokesperson. The media will interview anyone they can. Having a spokesperson ready can help focus the media on your official message rather than the panic-stricken interview of a passerby. Provide regular media training for this individual, as well as several back-ups, to make certain that they are all ready to clearly articulate the message on behalf of the school.
Work With The Media
You can monitor the media – local and national media outlets, social media, online, and print publications. But you cannot completely control what is being said about the incident. What you can do is provide information and regular updates to the community and media. If the media are looking for details and cannot find them on your website or social media, then they will go where they can to get information, which may not result in the most accurate material. You want to be ready to keep your website and social media updated regularly, hold conference calls with news directors and editors, and provide interviews with key administrators as soon as possible.
In Campus Safety Magazine, Barbara Nash, a senior strategic public relations and reputation management consultant, notes the impact working cooperatively with the media can have in crisis management. She shares from her experience in regards to a 2010 school shooting in Alabama: "Although initially some [media] outlets sensationalized the story aggressively, when the news directors realized we intended to be as open as possible and to give them as many details as quickly as we could, they actually became our partners in serving the community instead of adversaries trying to trip us up at every turn."
The time to make your crisis communication plan is now. No one is immune to active shooter incidents. But your organization can take a proactive approach to planning how to effectively handle communications in a crisis situation.