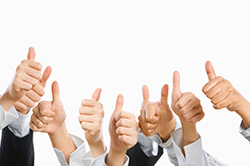 It's fair to say when we first started our GESOP back in 2010, not many people really understood what we were doing or what it meant to them. I'm not sure I even understood ALL the implications of the GESOP back then. But one thing was certainly clear: there was a buzz created when we let our employees, all of them, know they were now owners in Gibson.
Sure, they didn't know exactly what that meant, but they knew they liked the sound of it. You could just tell there was something a little different in people. I called it the pride of being an owner. All of a sudden, Gibson was their company too. No doubt it was subtle, but it was definitely there.
Fast forward to the beginning of 2014. We were coming off the best year of results in the firm's history. Our employee-owners had enjoyed quarterly incentive bonuses 3 of the 4 quarters. Our stock price increased dramatically. At our annual GESOP meeting in April we were able to share tremendous news with everyone. We passed out their annual statements, which had grown dramatically from the prior year.
Everything was going great! Then it hit me. How do we keep it going? How do we build the same level of excitement in our GESOP for all the new people we were hiring to keep up with our growth? The people that were here already "got it", but what about the "newbies"? The more I thought about it, the more convinced I became that we had to have our GESOP Communication Committee get back to work on sharing the message with our new folks, plus keep the existing staff engaged. What would we do to make our communication strategy even better in 2014?
Keep in mind that in 2013 – the Committee's first year of existence – we had monthly contests that built each time, culminating in a month-long celebration of employee ownership in October, which is National Employee Ownership month. At the end, we had a great time with "GESOPtoberFest", grilling brats, sauerkraut, baked beans – even some beer for those so inclined. The grand prize was a $750 travel voucher that the winner could use for any travel they chose to take in 2014. That was all really cool. But what do we do for an encore?
Well, I'm pleased to say our Committee was up to the challenge! This year we again have a theme for our monthly contests that will build to a grand prize drawing in October. I don't know if any of our teammates have guessed the theme, but we have had great participation in our monthly GESOP challenges. We have an exciting October planned. So for the fun aspect – I feel comfortable we've got that handled.
Part of the Committee's role is also to educate our team, especially the newbies, about the GESOP – how it works, what it means, how it will help them build wealth over time. To accomplish this we turn to lunch and learns. I've been working on our next session and I am looking forward to taking the conversation to a new level with my fellow owners. Sure, I'll share all the basic plan info they need to know, but this year we're taking it one step further.
I'll be sharing an abbreviated Gibson income statement with those who attend the lunch and learn. This will help them see and understand the things that contribute to our stock valuation annually. I'll be talking about how all of us can make a difference in our results by helping build our top line, by helping control our expenses, and by becoming more efficient. All of those things matter. It's something most people, other than us bean counters, don't think about every day, yet it's hugely important.
These days I'm a whole lot more comfortable with how we continue to engage our employee-owners on the GESOP. It's going to be a never-ending process, but then again any of you building your own businesses know that's always the case. Anything worth building is that way. But if there's one thing I can definitely say without any reservation, it's that employee-ownership is incredibly powerful in an organization. It has been for Gibson, and it could be for your firm too. Have you considered an ESOP for your company?