Today we're sharing insight from guest blogger Mike Cahill, CEO of AWS Foundation and former CEO of Tower Bank & Trust. Tim Leman is taking the summer off from writing his weekly blog to spend time on an exciting project focused on culture and leadership. We hope you enjoy Mike's wisdom and perspective.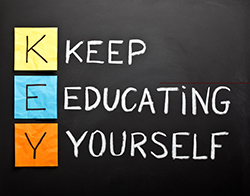 The best way to manage risk is to dedicate one's self to lifelong learning. Knowing as much as you can about your job and industry protects your ability to earn a living. Knowing as much about your town and city will help you make the right choice on where to live and what schools to send your children to. Knowing as much as you can about the candidates for local, state, and federal government allows us to elect the best officials. Knowing about your community and what it has to offer allows you to live your life to the fullest. Knowing what's included in your insurance program will help you better deal with an unfortunate claim.
We are all familiar with the concept of insurance. However, when we think about the names given to the different types of insurance, something stands out to me. Health insurance does not keep us from getting sick. Life insurance does not keep us alive. Disability insurance does not protect us from becoming disabled. Dental insurance does not prevent cavities. Identity theft insurance does not keep your identity from being compromised. What these different policies do is help us financially deal with the complications of life.
This takes me to my thought today. We need to start thinking about insurance differently. Insurance is one part of risk management. Not just having the right type and amount of coverage. Risk management takes a look at your entire picture of risk. It's a process of identifying, measuring, and minimizing the effects of risk. Insurance is one important part of this, but not the only factor.
What's the answer? Getting back to my original point: education. Having the appropriate education helps us deal with life's complications. It helps us financially by making sound decisions. It also helps us deal with the curveballs that life throws from an emotional, intellectual, and spiritual perspective.
We should all continually invest in our education. It is not just about the high school or college diploma. While these are important, they only cover a finite amount of the knowledge you need. Education is about the books you read, the conversations you have, the articles that catch your attention, the television shows you watch, the movies you view, and the seminars you attend. If we truly want to have strength against risk, then we need to round out our view of risk management with the right education.
What's The Risk?
The risk of being uneducated about insurance is to be caught off guard when you need it most. The best approach to risk management starts with education. Continually invest in yourself and your education. Find the people and sources that can further your knowledge. The hardest part is the investment of time and effort. You can't just mail in a check and receive this type of insurance. The cost is your time. To me, that is time well spent.
This content was written and shared by guest blogger, Mike Cahill.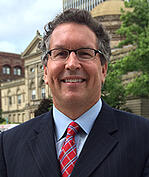 Mike is the CEO of AWS Foundation and former CEO of Tower Bank & Trust. He's been in leadership positions of growing companies for most of his career. Mike started as public accountant and later was the CFO in a commercial real estate firm, at an HMO, and also was a consultant to healthcare organizations before joining the bank.
Connect with Mike on LinkedIn and Twitter.