Today we're sharing insight from guest blogger Mike Paton, Visionary at EOS Worldwide, LLC. We hope you enjoy Paton's wisdom and perspective.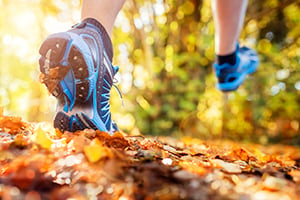 My high school cross-country coach, Chuck Lucas, was a legend. He and his teams won more than twenty league championships, countless district titles and two state titles – my senior year and the year following. There were lots of reasons "Coach Luke" was effective, but one was remarkable. He saw things other coaches never saw.

Traveling The Well-Worn Path
We ran a lot of our races (most of the important ones) at Goodyear Park in Akron, Ohio. We practiced there often, and Coach Luke knew the place like the back of his hand. One day he directed us to the top of a huge hill at one end of the park. With the park and our course laid out below, we could see the paths taken by race runners worn in the taller grass. He pointed to a 600 yard stretch of course that we ran twice during the two and a half mile circuit.
"What do you see?" he asked the skinny awkward crew of teenage boys.
"Huh?" was the collective response.
"What's the shortest distance between two points?" he asked.
"A line?" I said, unnaturally confident having grown up with a grandfather who taught high school math.
"Right," he replied, pointing again. "Is that a line?"
And suddenly all of us saw it. The path worn in the grass was curved – more of an arc than a line, really. Coach Luke helped us understand that runners following that path (as we had all done numerous times) were probably traveling an extra twenty yards per race. With races won and lost by feet and inches, that extra distance could make a huge difference. He then helped us all draw a straight line in our heads, from the start of that stretch of course to a house at the far end of the park. From that moment on, every one of us came off the hill focused on the little white house. We diverged from the well-worn path and focused intently on running a straight line.

Climb The Hill To Gain Clarity
The benefit wasn't limited to twenty yards. The knowledge that we had an advantage gave us an extra boost. We came off the hill confident that we'd pass two or three competitors, and we'd end up passing three or four.
By seeing from a higher plane, Coach Luke gave us a clear, simple advantage. It helped us focus and execute better, which built our confidence and frustrated our competitors. We won more. And winning breeds winning.
That's what it feels like to set and complete Rocks every ninety days.

What's The Risk?
The risk is in following the well-worn path. If you're not running in a straight line in your business, you're missing out on clarity and the benefits that come with it.
Consider climbing a hill, seeing things more clearly, and focusing on the three to seven straight lines you need to run next quarter to achieve your vision. You'll win more races.
This content was written and shared by Mike Paton. It was previously posted on EOSWorldwide.com on July 16, 2018.
Mike Paton has been learning from entrepreneurs for most of his life. Today he works hard to give back - as an award-winning speaker, best-selling author, Certified EOS Implementer, and as the Visionary for EOS Worldwide.
Paton discovered the Entrepreneurial Operating System® (EOS) a dozen years ago while trying to take a $7 million company to the next level. Feeling stuck and more than a little frustrated, his search for answers led him to Gino Wickman and EOS. Having helped run four entrepreneurial companies, Paton instantly recognized the power of this simple, holistic "way of operating" a small business. He quickly became a passionate advocate, joined the Professional EOS Implementer Community, and dedicated himself to helping other entrepreneurs get what they want from their businesses.
Since then, Paton has conducted more than 1,200 full-day sessions with the leadership teams of more than 110 companies and helped thousands more entrepreneurs by sharing EOS in dynamic talks and workshops the world over. During that journey, Paton wrote Get A Grip: An Entrepreneurial Fable with Gino Wickman and then succeeded Gino in the role of Visionary for EOS Worldwide. In that role, he leads a close-knit community of more than 250 Professional EOS Implementers around the globe - each passionate about helping entrepreneurs run better businesses and live better lives.
Paton lives in Minneapolis with his wife Kate. Together they have five boys.
Connect with Paton via LinkedIn, Twitter, YouTube, and the Achieve Traction website.