What separates the great teams from the rest? It all starts with trust.
A lack of trust, where vulnerability is not respected or rewarded, leads to fear of conflict among team members. Without healthy debate and critique, they never go deep, causing an absence of commitment to develop where team members avoid accountability all together. Team members pursue personal gain and status over team victory. Ultimately this inattention to results – team results – brings an end to a once promising group of talented individuals.
Pat Lencioni has named this chain reaction of failed leadership The Five Dysfunctions of a Team in a book by the same name. I suspect most of us have been on a dysfunctional team or experienced dysfunctional leadership.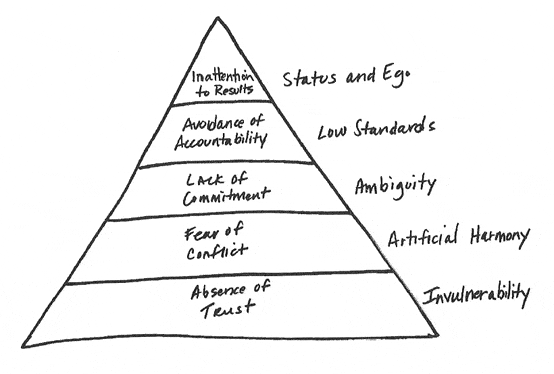 As a leader, trust is about letting my guard down and being vulnerable. It's admitting when I'm wrong or I don't know. It's going first.
With vulnerability-based trust established, my team will embrace healthy conflict. We'll be able to go deeper, getting below the surface. They'll help me see the "last 5 %" that I can't see on my own.
When my team members have been heard and feel respected, buy-in will naturally occur. We'll move faster because we're aligned and mutually committed to our cause.
Accountability develops within the team, no longer reliant solely on me as the coach. The team begins playing for each other, not wanting to let their teammates down.
And that's when the magic happens. Our focus will be on results with team victory always taking priority over individual attempts at status and glory.
The root of all team dysfunction is the absence of trust. As Lencioni says, "Trust is knowing that when a team member pushes you, they are doing it because they care about the team."
As a Midwesterner, I think this can be particularly difficult. We're raised to be nice. And we really are nice people! Somewhere along the way being nice gets equated with not being critical of others, even if well-intentioned. I think it's actually a form of selfishness: I'd rather not feel bad by providing constructive feedback, which might lead to conflict, making me feel bad.
For me, I'll take the kind of team member who cares so much about me that they'll enter the danger, pointing out my flaws and maybe even helping me fix them. I want to know if I have a bat in the cave! Literally or figuratively.
Yet, that's on me to foster. I have to create a safe and trusting environment where those around me know I want the tough news and the constructive critiques. Because I know it comes from a place of love and it's not personal at all.
Stephen Covey calls trust the "glue of life" and the "foundational principle that holds all relationships."
Want to give your leadership team an edge? Start building a foundation of deep trust by going first. As Hemingway wrote, "The best way to find out if you can trust somebody is to trust them."
And also, you've got a little something…no, the other nostril. There, you got it.