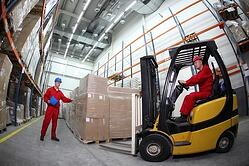 Lift trucks are a very necessary part of many businesses, but they can also pose serious safety hazards when operated incorrectly. According to the National Institute for Occupational Safety and Health (NIOSH), many forklift accidents can be prevented by making sure employees are aware of hazards and follow safetypractices set forth by the Occupational Safety and Health Administration (OSHA), employers themselves, and the lift truck manufacturers. These general guidelines can help identify areas you may want to review.
Be Aware Of Risks
One of the best safety practices is to make sure all employees are aware of the risks associated with forklift use and how to minimize them. These risks affect not only forklift operators, but others in the facility as well. There may be other risks specific to your application, but the Occupational Safety and Health Administration (OSHA) lists the following as the most common situations that result in injury or death while using forklifts.
Forklift overturn
Falling loads
Driving off docks
Falling between the dock and an unsecured trailer
Forklift running into someone or something
Workers falling off an elevated platform
Use The Right Equipment For The Job
Using the right equipment can reduce unsafe situations. Employers should make sure equipment meets ANSI standards and that its size and configuration are appropriate for the job. The following factors may affect the size and type of forklift you need as well as what safety features you need on it.
If you use the forklifts in an area with flammable vapors or dust, volatile chemicals, or have specific emissions requirements, you will need a truck with additional safety features.
Surface conditions, ventilation, size of the load and how it will be handled, space available for maneuvering, sloped surfaces and ramps can all affect safety.
Load limits should be clearly marked and not exceeded.
More Prevention Tips
Accidents often happen when the details are overlooked. The following safety practices can go a long way toward preventing accidents.
It is illegal for anyone under 18 to operate a forklift. It is also illegal for people over 18 who are not trained and certified to operate the forklift.
Trucks should be safety checked daily or at the start of each shift. If you do not have procedures in place for this, you may want to use OSHA's sample checklist as a starting point. Don't operate equipment that is in need of repair or otherwise unsafe.
Do not stand or walk under elevated forks or loads.
Make sure all safety precautions for fuel storage and battery charging are being followed.
Modifications to the safety equipment on the truck should only be made by the manufacturer or a factory certified servicer.
Make sure there is sufficient space to operate the equipment. Be especially aware of clearance needed to avoid overhead pipes, sprinkler systems, and lights.
Make sure drivers are periodically evaluated and refresher training provided as necessary (for example when a driver is observed operating a forklift unsafely).
Overhead guards and cab enclosures are designed to protect the driver from falling objects (but not the impact from a capacity load) do not disable them.
Providing a safe work environment is always a top priority. Following these and other important safety practices can help you minimize the risks associated with operating forklifts.