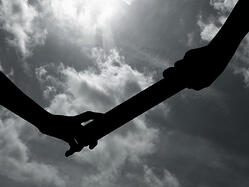 As I discussed in last week's blog, leadership transitions are a lot like relay races. First, you have to make a good handoff. Once the baton is passed, the new leader needs to hold onto it, something that apparently isn't easy to do. Research by the Center for Creative Leadership shows that up to 40 percent of newly promoted leaders are no longer in their roles within 18 months.
Because our Chairman Greg Downes has been involved in each of Gibson's three successful leadership transitions, he's in a unique position to comment on this issue.
Greg was Dan Gibson's, our founder, "right hand guy" for a few years and helped Dan manage his clients, eventually taking over many of them. This naturally involved business development, relationship management and advisory skills. Years later Greg added an Operations role to his duties when Dave Gibson named him COO.
New Jobs Require New Skills
Greg has often told me that the skills that help you succeed in your current role and get you "your next job" aren't the same ones you need to perform well and succeed in that new role. As Greg evolved into a COO role, he struggled to meet the demands of the new position. "I was a doer. I would outwork everyone else. Five day work week? It was more like 6 ½. We actually used to have Saturday hours!" exclaimed Greg.
"So when it came to selling, winning new clients, or keeping my clients, I didn't have to rely on too many other people besides my immediate team. When there were problems, I could just fix them."
"My productivity, passion, and energy for the business meant a lot to Dave as he took over for his father. The problem was that I now had responsibility in one way or another for most of our company. I had to trust and rely on people in a totally different way or I was going to fail."
Greg's story is a familiar one. So many organizations will promote some of their best "doers" into a management role. Who should be Head of Sales? Well, your top salesperson of course! Sometimes this works and other times it can be a disaster.
As Dave Gibson explained, "In many cases when an individual transitions from a sales or production role to a management role they are forced to not only give up the security of their client relationships but also assume a reduced compensation base."
New Jobs Require New Relationships
I struggled with the transition myself and it took me a while to appreciate why. Like Greg, I took on the CEO role after leading a small team. We were pretty successful; but less due to my leadership and more to my selfish need to grow my own book of business.
Fortunately Greg had been through something similar. As he counseled me, I realized that in my old player-coach role, I was able to spend time in the trenches with my direct reports. So on the days I was a little impatient or pressing, they cut me some slack; they had gotten to know the real me. For those that knew me "only" as their manager, I was asking for more than I had given on the relationship front. I would have to change my approach and evolve.
After a lot of soul searching and reflection, I decided to start with the most important stuff first. I focused in our core values, mission, and long term vision. I regularly met with small groups of our people. The more they saw how much I believed in them and our organization, the more they trusted me and joined me in pursuit of our vision.
As Dave told me, "While the skills of leaders and mangers are critical, the real key to success is proper values and an unselfish mindset." Was he ever right about that!
What's The Risk?
Internal leadership transitions come with multiple risks. Taking a proven performer out of a production role can have an immediate hit to revenue. Worse yet, if the transition isn't successful, the organization can lose the newly promoted leader outright. That said if the new leader is able to successfully navigate the transition, it can have hugely positive impact.
Here are some tips to avoid dropping the baton:
Appreciate the context of your transition. What type of leader are you replacing? Or is it a new role? How are business conditions? How will culture affect the transition?
You'll need to develop new skills to be successful. What got you the promotion is probably not the same thing that will help you be the leader your organization needs.
Find a way to connect with your people. Learn about them. Ask questions about your role and how you can help. Clarify what success means. Be yourself and build trust. Listen. And leave "selfish" behind.
Give them a reason to follow you. Offer a compelling vision of the future, what role everyone plays and how much you need them. Make sure culture and values are at the center of your message.
Have a support network you can rely on. It can be lonely as you move up the ladder. To make it through, you'll need candid mentors and colleagues, and also a few friends just willing to listen. Lucky for me, I had all three.
Are you or your organization going through a transition right now? Please share your insights below!