Who is your all-time favorite teammate? What virtues do they demonstrate that endear them to you?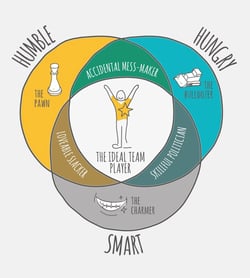 It's likely they epitomize what Pat Lencioni has labeled an Ideal Team Player (ITP):
They are humble – without concern for their own status.
They remain hungry – always pursuing growth and giving their best effort.
They're smart when it comes to people and relationships – emotionally intelligent, exercising good judgment and intuition within the team.


Humble
Jim Collins, a key force behind getting the "right person in right seat", has also written about the importance of humility. He calls it the "window & mirror" leadership model.
When things go well, humble leaders look out the window to give credit to everyone else but themselves, perhaps even stating the success is owed to luck. And when things don't go well, they look in the mirror and accept responsibility.
This characteristic is just as important for members of your team. Lencioni says, "Humility is the single greatest and most indispensable attribute of being a team player."

Hungry
An old sales leader of mine was fond of saying it like this, "You can't push a rope." So true, Jim Spuller!
We need team members who won't accept status quo. We're at our best when surrounded by others passionately pursuing lifelong growth, learning, and improvement.

Smart
The more you embrace team victory over individual results, the more critical it is to have emotionally intelligent teammates. They understand the nuances of the other players on your team and have the emotional maturity to work effectively with each of them.


What happens when you're not working with IDEAL TEAM PLAYERS?
Lencioni says we should totally avoid hiring and retaining employees with only one of these virtues. And although people with two can become valued team members, it will take a lot of hard work.
Here's why it's challenging:
Hungry and smart, but not humble – This person is a "skillful politician" who will be unwilling to support team decisions that don't further their personal interests.
Humble and smart, but not hungry – This person will be a "lovable slacker" who won't work hard to help the team achieve its goals.
Humble and hungry, but not smart – This employee will be an "accidental mess-maker" who will inadvertently create vexing problems for the team.
Leaders must have the courage to hold themselves and their organization accountable for getting the right people in the right seats. And that starts with hiring and retaining Ideal Team Players.