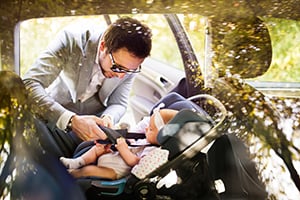 It's cold outside and many of us are taking our kids in an out of their car seats. Bulky winter coats can pose a serious threat when worn under the straps by creating too much space in between a child's body and the harness itself.
During a crash all the material of a bulky winter coat will compress making the harness straps too loose on the child. When the harness straps are not snug on the child, they don't do their job of securing a child during a crash.
How to Bundle Up Safely
If you find that the coat can't be safely worn under the harness, here are a couple things you can do:
For smaller children, put a blanket over them to keep them warm.
Only use aftermarket covers, essentially fitted blankets, designed to give additional warmth that are approved by the car-seat manufacturer for your specific car seat. Such covers have been tested with the seat and won't compromise your child's safety.
For a bigger child, after securing him or her in the car seat, turn the coat around and put it on backward (with arms through the armholes), so the back of the coat serves as a blanket resting on top of the harness.
For infants:
Dress the infant as if they were going to be indoors.
Put them in their infant carrier.
Top them of with a hat and some blankets over the top of the harness straps and carry baby out to the car.
As the car warms up you can remove blankets and replace them over baby when you arrive at your destination. This also helps ensure baby doesn't get overheated.
For toddlers and preschoolers:
Dress the child comfortably and put on their coat and hat for their walk out to the car.
Take off the coat and buckle the child snugly in the harness straps.
Put the coat on over the child. They can put their arms in the sleeves backwards and also use blankets. New car seat friendly coats and infant covers are also now available.
The child can remove the layer(s) as the car warms up.
If you're not sure if your child is secure in their car seat, it's very easy to test. Simply try to pinch a horizontal fold in one of the straps above the chest clip. If you can pinch it and grab it, it's too loose. If you can sort of pinch it but you can't grab a hold, it's tight enough. And there should be no slack in the hip area. For more tips on how to stay safe on the roads this winter, check out this blog.