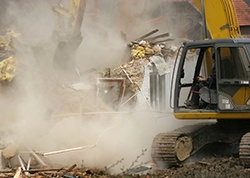 Pollution liability should not be overlooked. Claims, and the costs associated with those claims, can be expensive. They can test the financial stability of even the best of companies.
Standard commercial general liability policies will often exclude coverage for the escape of pollutants and the associated clean-up costs. In many cases, the definition of a pollutant extends to a solid, liquid, gaseous, or thermal irritant or contaminate. This can include smoke, vapor, soot, fumes, acids, alkalis, chemicals, and waste.
With this type of exclusionary language, there is a widespread need to purchase pollution coverage outside the commercial general liability policy. Contractors can also be bound by contractual requirements to provide this specialized coverage.
The exposures are not limited to large-scale incidents. As a contractor you may face the risk of pollution every day. The following are scenarios where a contractor's pollution liability policy might apply:
Contractor is excavating and hits a gas line causing a spill. Soil around spill needs to be remediated.


Contractor has removed material from a jobsite and dumps it into a nearby landfill. The material causes damage to nearby water supply and must be cleaned up.


Contractor is transporting paint to a jobsite and is involved in an accident. The paint is spilled causing contamination into a nearby stream.


Contractor is fixing a pipe in the street which causes sewer backup into a nearby home. Mold ensues which makes a child ill and necessitates cleanup.
Trade and general contractors alike are finding more insurance markets now available to protect these types of exposures and that the coverage forms and pricing are improving.
For some companies, the risk of hazardous waste exposure is clearly evident. But for others the pollution risks may seem minimal. Even for these firms, pollution risk is an important coverage to consider. It is a real threat and can occur at any time. Environmental laws change and new forms of pollution and contamination are discovered. Don't overlook pollution risks. Talk to your risk advisor to learn more about ensuring you are properly protected.