Today we're sharing insight from guest blogger Jerry Scott. We hope you enjoy Jerry's wisdom and perspective.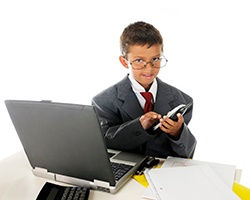 One day this week while Janet and I were taking our evening walk around the lake, I was struck in a moment of clarity how ironic and absurd something was that happened at work that day. Not that I wasn't listening to her, but like some slightly deranged person I suddenly belly laughed out loud in the middle of the sidewalk. It earned me an eyebrow.
We had a meeting earlier in the day where a department manager was taking our Executive Leadership Team through an annual staff planning presentation. This is something we do for every team in the company now, an idea I stole from Jack Welch and GE in the book Straight from the Gut. Remember their Session C's? We talk about current and future-state department structure and roles, teams, employee status and development, process improvement, cost control, productivity, and ultimately leadership succession and perpetuation.
It happened in the middle of our discussion about possible successors for the department manager's role. As we discussed various team members and their leadership potential, the conversation meandered around to one of the younger team members who could be eventually considered, along with a few others. Then the manager pointed out a possible road block. How could this person really mentor and teach the other veterans in the department with years, often decades, more experience? We all sagely nodded our understanding of the dilemma while discussing this individual's attributes. Then we moved on.
Then, during our walk, I remembered exchanging glances during this discussion with my boss, our Chairman & CEO Tim Leman, while we sagely nodded our understanding. The manager raised the concern while I was sitting next to my boss (the CEO) who is 18 years younger than me. Yes, how could a much younger person hope to lead and mentor an older colleague indeed? Hence the belly laugh.
Seriously though, I was hitching a ride to Uncle Sam's Disco outside UT-Knoxville when Tim was crawling around looking for his binky. He was playing T-ball when I made my first sale. He went to his first dance when I first started managing other people. Now Tim is brilliant and a proven leader. He is a phenomenally successful producer and a visionary. Plus I deliberately chose to come to work for him, so maybe it's not a valid comparison. But it made me start thinking more deeply about what makes a leader and why someone younger could be chosen to lead a department.
The first thing I look for in a potential leader is a servant leader's heart. I'm not a particularly religious man, but I love the story of Jesus, the Son of God, getting down on his knees and washing the dirty feet of his disciples to prove the point that to lead is ultimately to serve. I like that lesson so much I have a carving of the scene in my office. Will that person put their people and the team first? Will they seek to build up and honor the team over themselves? Will they fight for their team, solve problems for their team, and remove roadblocks for their team? Will they share responsibility and decision making and develop and promote their team even at the expense of their own personal indispensability?
The second thing I look for is whether they are a student of the game. Are they curious and driven to continuously learn in order to drive improvement? Are they open to change and willing to embrace new technology and ways of operating? Are they willing to put forth the discretionary effort to seek out and try new things to drive Gibson and their department forward? As our good friend JB Brown from BCI says, "#StatusQuoSucks." Or as Marshall Goldsmith puts it "What Got You Here Won't Get You There."
Lastly, do they understand, believe and live that the mission comes first. We have an obligation to our clients, shareholders, and fellow employee-owners to drive ongoing and sustainable success - and sometimes you have to step up. I know it's a small thing but as an example I started writing this blog at 4:00 AM Friday because I promised it to Katie by Monday and I was behind schedule. My sister is in town from San Francisco and I don't want to write over the weekend. But my commitment to Katie comes first. The mission comes first above personal convenience, work-life balance or any other consideration. Resilient leaders find a way to get it done. They get the important things done consistently and with intention.
So, the bottom line to me is that sometimes a less experienced team member can be the best choice to lead a department. If such a person is chosen, it's the responsibility of their team to help, mentor, and advise them. After all, we are all in this awesome and beautiful endeavor together. And for the record, Tim is a great boss, youthful enthusiasm and all.
What's The Risk?
Traditional models of leadership, organizational structure, and human resource practices can and often will constrain growth, improvement, and creativity. It's especially up to senior leaders to create a culture that encourages and honors innovation. The goal is to become a flexible employer of choice, utilizing mobile technology and highly customizable work schedules in a trust-based environment that promotes freedom and performance.
This content was written and shared by guest blogger, Jerry Scott. Connect with Jerry on LinkedIn and Twitter.