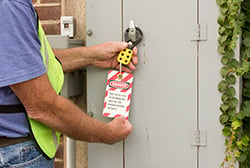 Lockout/tagout (LOTO) is #5 on the list of most frequently cited OSHA standards with 2,704 violations. OSHA estimates that compliance with the standard could prevent 500,000 injuries and 120 fatalities a year. What can your company do to meet this standard and properly protect your workforce from the dangers of hazardous energy during the machine inspection and maintenance process?
What Are The Harmful Effects Of Hazardous Energy?
If not properly controlled, the flow of hazardous energy from a machine can seriously injure or kill a worker when performing maintenance. This can be from a variety of sources such as electrical, hydraulic, steam, thermal, pneumatic, chemical, and gravity. Potential injuries include: electrocution, burns, crushing, cutting, lacerating, amputating, or fracturing body parts.
OSHA identifies craft workers, electricians, machine operators, and laborers as some of the 3+ million workers who face the greatest risk of injury from hazardous energy. On average, workers injured from hazardous injury miss 24 days of work.
How Can You Control Hazardous Energy?
Implementing LOTO procedures and practices can help to prevent injuries. Typical LOTO procedures include performing a shutdown, isolating the equipment, applying and removing lockout devices, and safely releasing stored energy.
What Are Typical LOTO Devices?
Tag

Cable and Plug Lockout

Breaker & Fuse Lockout

Pneumatic, Ball & Gate
Valve Lockout

When Must A LOTO Device Be Used?
A LOTO devices must be used when servicing or maintaining equipment where:
Hazardous energy exists
Unexpected start-up could occur
Unsafe operational condition of equipment that could harm an employee
What Must Employers Do To Protect Employees?
Safety and Health Magazine summarizes the responsibilities of employers to comply with the OSHA standard as the following:
Develop, implement, and enforce an energy control program and procedures.
Develop, implement, and enforce an effective tagout program if locking out equipment is not possible.
Use lockout devices when possible. Tagout devices may only be used in lieu of lockout devices if they offer the employee the same amount of protection provided from a lockout program.
Ensure lockout/tagout devices identify individual users and establish a policy that permits only the employee who applied such a device to remove it.
Ensure new or overhauled equipment can be locked out.
Use only lockout/tagout devices authorized for the specific piece of equipment, and ensure they are durable, standardized, and substantial.
Inspect equipment and lockout/tagout devices at least once a year.
Comply with OSHA's standard when machines must be moved or tested, when contractors are working on-site, in group lockout situations, and during shift or personnel changes.
Provide adequate and effective training for all employees.
What Responsibilities Do Affected Employees Have Regarding LOTO?
Notify maintenance or appropriate department when equipment needs repair or adjustment
Leave all LOTO devices in place
Verify equipment is safe to operate following LOTO
Follow all safety rules while operating the equipment
To safely perform LOTO make sure employees are following company safety procedures and policies. Keep everyone informed on when equipment is repaired or serviced. Stay alert and use common sense!
Additional Resources