Today we're sharing insight from guest blogger Mike Cahill, President of Banking Services at Ruoff Home Mortgage. We hope you enjoy Mike's wisdom and perspective.
By chance, I was visiting with a former coworker the other day and two things popped up. One, I saw a copy of the book The Energy Bus on a desk in the office. Two, the person I was talking to shared how a coworker always had something negative or cutting to say. There was never anything positive forthcoming from them. This coworker could not seem to see this about themselves.
It also made me think back to a wonderfully warm gentleman who operates an EAP (Employee Assistance Program) and how he used to end his overview of the program with the following statement - "Studies have shown that 1 out of 3 people would benefit from using an EAP program, so if you seem to have two well-adjusted friends or coworkers…call me!"
So how do I tie all this together? The book warns of energy vampires. And in this case, just like a vampire, those who bring energy levels down do not see themselves in the mirror. Even if they do sometimes see what they are doing, they may not be able to turn things around, which can be very frustrating for everyone.
Many, many years ago I was the energy vampire. I even recognized this after a while. But no matter what I did, I could not seem to shake it. In looking back, I really should have been fired. Instead, I ended up basically firing myself. Why did I take the action versus my employer?
I was seen as too valuable. I drove in a lot of revenue. I was the face of the company in many forums. I had a lot of knowledge related to the industry. Probably, and most importantly, in the past I was not the energy vampire. I was the source of positive energy. Maybe, because of this, there was hope I would turn things around, but I could not.
When I said I fired myself, I actually recognized that I would be unable to turn myself around. I needed to leave and find another opportunity to start fresh. So that's what I did. It took a total of 3 months from the time I came back from a planned 3 week 'sabbatical' to try and get my sh** together (and realized I could not) until I had left and started in a new role elsewhere.
What happened to the company I was so valuable to and to me? The company did just fine. I gave 30 days' notice, I helped when needed after I left, and I was happy to do so. They never really skipped a beat, and if anything was missed, it was short-term in nature. Me? It was like the sun rose for the first time in years. I was my old self immediately in my new role. The transformation was amazing.
So, what did I learn from this?
My 5 rules to avoid being run over by the energy bus:
I will not fool myself about the amount of control I can have. Sometimes the more things that are going on, the more we try to control things around us. This is a certain way to ramp up stress and burn yourself out.


Life is a marathon, not a sprint. People recognize this, if you let them. The adage – If you want to go fast, go alone. If you want to go far, go together - comes to mind. I cannot go far, all by myself.


I have enough of my own issues to solve without also owning everyone else's issues. Chevy Chase in the movie Vacation says - "I am not an ordained minister, honey. I'm doing the best I can." This is wise counsel in many ways.


Find joy in my life. Make certain I spend both quantity and quality time on these things. This is what refreshes me, increases my energy, and makes me positive about my ability to move forward through difficult situations.


Finally, and most importantly, trust others. Most people are more capable than you think. They just need to be believed in and given the opportunity to step up. Not trusting others guarantees people will not step up and energy all around us goes down.


What's The Risk?
The biggest risk is in being the energy vampire without even realizing it. The impact it can have on yourself and those around is significant.
If people are avoiding you, and they do not seem to be as hurried, tired, and worried as you are, maybe you and two friends should get in front of the mirror. If only the other two see a reflection - maybe you are the energy vampire!
Hopefully, it won't take getting hit by a bus to notice.
This content was written and shared by guest blogger, Mike Cahill.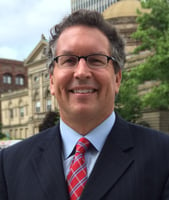 Mike is the President of Banking Services for Ruoff Home Mortgage, the largest home mortgage originator in the State. He was President & CEO at Physicians Health Plan of Northern Indiana (PHP) from February 2015 to June of 2018. Prior to PHP, Mike was the first CEO of the AWS Foundation after serving the previous decade at Tower Bank & Trust Company (NASDAQ: TOFC) where he served as President & CEO of this organization during his last 8 years after starting as their CFO.
He is the Lead Director at Benchmark Human Services, the $150 million in annual revenues 'for profit' arm of the AWS Foundation that has 3,400 employees operating in 15 states, and a Director of Wayne Pipe and Supply, headquartered in Fort Wayne, Indiana.
From a community standpoint, Mike is the incoming Chairman of Junior Achievement of Northern Indiana, and a board member of the AWS Foundation and its NFP operating subsidiary, Anthony Wayne Rehabilitation Center. Additionally, he is on the board of the Northeast Indiana Regional Partnership, Community Harvest Food Bank and the Community Foundation of Greater Fort Wayne.
In addition to these outside activities, Mike serves on the advisory board of Young Leaders of Northeast Indiana (YLNI) and Purdue University - Fort Wayne's Center of Excellence in Business Analytics.
Mike has lived in Fort Wayne since 1985 and is a graduate of the University of Notre Dame with a Bachelor's degree in accounting. Mike became a CPA while working for Ernst & Young in Toledo, Ohio after college and before coming to Fort Wayne. He has been married for 35 years to Mary, an extremely tolerant and beautiful woman and has four children - Sean (34), Kevin (30), Tara (26), and Collin (18) plus three adorable granddaughters and a brand-new grandson.
Connect with Mike on LinkedIn and Twitter. Connect with Ruoff Home Mortgage via their website, Facebook, LinkedIn, and Twitter.