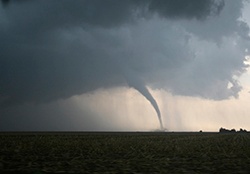 The dark clouds roll in. The warning siren sounds. Severe weather is coming…are you and your employees ready?
The storm may pass your site, causing little to no damage. But if you are caught in the heart of the tornado, the result could be catastrophic. You've seen the images. Entire towns wiped out in the path of a tornado. You can't predict the outcome of a storm, but you can plan ahead to make sure your organization is disaster ready.
How Can We Prepare For A Tornado?
It starts with developing your emergency plan. This should be comprehensive. It will identify safe locations to take shelter and a process for getting employees to such locations. Don't forget to consider employees who may be caught outdoors or driving when a storm is approaching.
But it is also important to develop accountability procedures. Do you have a system for knowing who is in the building? Do you have some sort of alarm system or emergency notification system to alert workers when it is time to take action? Have you considered ways to account for all personnel and visitors when they evacuate and arrive at the shelter locations? These are just a few of the items to consider when developing your emergency action plan for tornados and other disasters.
You must practice your plan! Planning is great, and very necessary, but it would be ineffective without practice. Taking time to practice your plan will help ensure that all employees know what to do if an emergency strikes. After training exercises, do not be afraid to adapt your plan based on what goes well or doesn't work smoothly in the practice.
Unlike hurricanes or tropical storms, tornados can come with little to no warning. Make sure your workforce understands the warning signs of a tornado - dark, often greenish sky; large hail; large, dark, low-lying cloud; loud road, similar to a freight train.
Know your community's warning system. Understand the difference between a tornado watch and a tornado warning. According to the National Weather Service:
Tornado Watch means Be Prepared!

Tornadoes are possible in and near the watch area. Review and discuss your emergency plans and check supplies and your safe room. Be ready to act quickly if a warning is issued or you suspect a tornado is approaching. Acting early helps to save lives! Watches are issued by the

Storm Prediction Center

for counties where tornadoes may occur. The watch area is typically large, covering numerous counties or even states.
Tornado Warning means Take Action! A tornado has been sighted or indicated by weather radar. There is imminent danger to life and property. Move to an interior room on the lowest floor of a sturdy building. Avoid windows. If in a mobile home, a vehicle, or outdoors, move to the closest substantial shelter and protect yourself from flying debris. Warnings are issued by your

local forecast office

. Warnings typically encompass a much smaller area (around the size of a city or small county) that may be impacted by a tornado identified by a forecaster on

Radar

or by a

trained spotter

/law enforcement who is watching the storm.
Don't forget to encourage your employees to also take proper precautions for their own families and tornadoes.
How Do We Respond After A Tornado?
When weather threatens, it is time to put your emergency plan into action. But what about after the storm, how do you respond to the aftermath?
Keep safety as your top concern. When the storm passes, some of your workforce may be involved in assessing and even cleaning up the damage to your facility. For the more severe damage, always consult trained professionals. As outlined by OSHA, the following are potential hazards you could encounter when working to clean up after a tornado. Make sure you have a system in place to identify, evaluate, and control any of these hazards.
Hazardous driving conditions due to slippery and/or blocked roadways
Slips and falls due to slippery walkways
Falling and flying objects such as tree limbs and utility poles
Sharp objects including nails and broken glass
Electrical hazards from downed power lines or downed objects in contact with power lines
Falls from heights
Burns from fires caused by energized line contact or equipment failure
Exhaustion from working extended shifts
Heat and dehydration
Communication is also critical. Establishing a crisis communications plan before disaster strikes is key. How will you communicate with employees? Vendors? Customers? Other stakeholders? Will you use a phone redirection strategy? Will you have a way to access all necessary contact information if your facility is inaccessible?
Don't let a tornado catch you by surprise. Make a comprehensive plan and practice it to ensure your business can weather the storm.