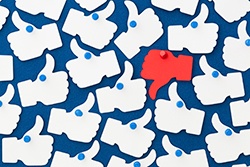 As hard as you may try, you are not going to please everyone. There are going to be times on social media where your organization receives negative feedback. Some businesses let the fear of negative reviews prevent them from diving into the world of social media. Yes, social media does present its own risks, but it could also be argued that skipping on social media creates even greater risks.
Complaints are inevitable. But the complaints themselves aren't the face of your brand, rather how you respond to them is. What can you do to better respond to negative feedback and protect your brand?
Do Not Ignore It!
Remember, social media is social. People are using social media to connect. So regardless of whether it is good or bad feedback, make sure you are taking time to connect with your customers via social. Ignoring a negative comment on social media can create the impression you do not care about trying to help and connect with your customers. Responding politely and positively can actually help improve your image in the eyes of customers – it can show them you care about improving their experience.
Make sure you have someone monitoring all social media accounts on a regular basis so you are able to see what customers are saying and respond in a timely manner.
Establish A Policy
Even if you have a one person social media team, it is still recommended to identify a policy for handling feedback. Responding quickly is critical, so outlining the process in advance can be a timesaver.
What type of wording will you use? Consider creating sample responses that can be adjusted to the specific comment. But these should only be samples to get you started. Your responses will be more effective if they seem to be coming from a real person, not just a canned message.
Who will you forward comments to for assistance? What email or phone number will you offer up when encouraging an individual to follow up offline? Thinking about these items in advance will speed up the process when you do encounter negative feedback.
Before You Reply – Take A Step Back And A Deep Breath
The last thing you want to do is get into an argument with a customer on social media. Their feedback may seem irrational and irritating, but before you even begin to type your response – take a step back and a deep breath. You need to respond when you're in the right frame of mind. Remember, these individuals most often just want to be heard. This is an opportunity for you to show how your company listens and values them as a customer.
Understand When To Take It Offline
In many instances, you will want to respond quickly with a polite message acknowledging that you hear their concern and offer up a way to help make the situation better. Often the latter would involve moving the conversation offline. You have demonstrated that you are listening and want to improve the situation – but then you help transition the conversation away from social media. Offer to get in touch with the individual via email, phone, or ask them to come by to speak in person. Provide them with contact information on how to get ahold of you to arrange such a conversation. It is better to deal with dissatisfied or disgruntled customers outside of social media.
The threat of negative comments is real. But before you decide whether these risks are great enough to keep you off of social media, consider the reputational risks of not connecting with your customers where they spend their time.
When you decide to take the plunge into social media, plan ahead in order to protect your brand. Do not dismiss negative comments. Respond quickly and politely. The way you handle social media feedback can demonstrate a lot about your organization.