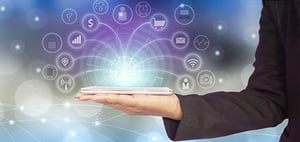 We hosted What's The Risk: The Impact Of Technology On The Employee Experience on May 10, 2018 at Notre Dame - South Bend and on May 11, 2018 at Allen County War Memorial Coliseum - Fort Wayne. Our speakers were phenomenal and our audience took away a lot of valuable information from their presentations. One common topic among all the presenters was the rising technology expectations from employees.
Ron Kramer from Notre Dame used music as an example of the changing climate in technology expectations. In 1980, the means of obtaining your favorite music was a process that involved going to a store, making a purchase, and playing the tape wherever you had a tape player. Today is radically different. You hear something you like, click, and you have it wherever you go.
As Notre Dame's Vice President and CIO, one of Ron's responsibilities is to make sure Notre Dame's technology is keeping up with the expectations of the staff and students. Today's students have lived their entire life surrounded by technology. To them, the current technology is their normal and they want to use it. They are going to be in the workforce soon and expect to click to make things happen. Are employers ready for this increasing expectation?
HR & TECHNOLOGY
If you ask Josh Hoover from Benefit Technology Resources (BTR), HR departments are aware of these expectations and working to meet them. The technology challenges that HR departments are trying to solve for are:
Administration – such as automation like Benefits administration
Compliance – like ACA, FMLA, and garnishments
Human Capital Strategy – this is truly the most important as it is driving towards the CEO's agenda and includes things like engagement, recruiting, learning and speed to hire.
With any new technology, it's important to make sure it's doing what it's designed to do for your company. Based on his experience, Michael Nader, Partner with Faegre Baker Daniels, LLP, identified seven employee benefit areas that can either be a sword to defend or impale your company: Electronic Distribution of SPD's and notices, ePHI, electronic messaging, ACA reporting, E-records, litigation, and E-payments. If the technology that supports these areas is not working as designed, it will cause issues for your HR department and diminish the employee experience. On the other hand, without technology, the HR experience can create an increased margin for error and a negative employee experience with archaic practices and paperwork. The graph below shows the technology risk and impact on employees and employers.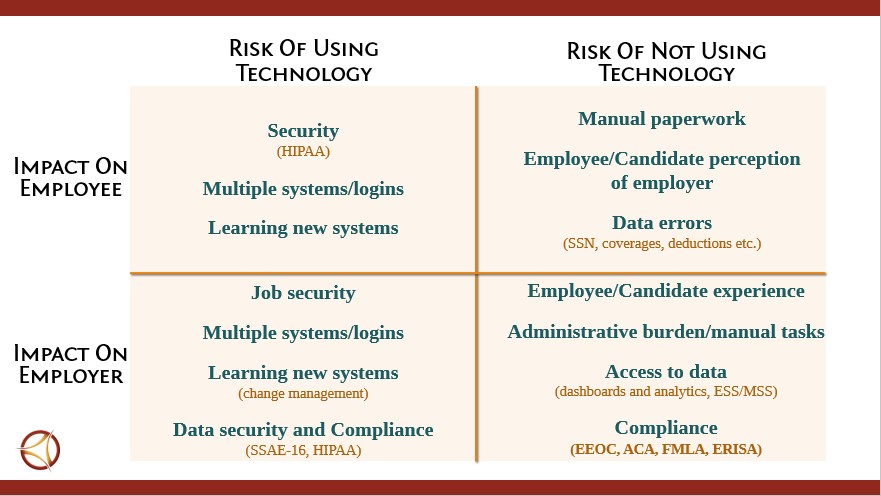 On-boarding is usually the first interaction an employee has with a new company. First impressions are everything. A positive experience is important. Jason Johnson, VP of IT at Sweetwater, shared a real-life example of how his company changed the employee experience starting with the new employee on-boarding platform. Their goal was to guide the employee through the onboarding process with ease and support. To do so, they focused on the end user experience and managed the process like they would a product.
Sweetwater next applied that mentality to their IT help desk process. They realized that autonomy was what their employees were wanting. By being autonomous, they could maintain a predictable IT process imperative to employee satisfaction and positive engagement.
Barton Halling, VP – Customer Solutions with UnitedHealthcare, spoke on engagement and said, "true engagement = autonomy + mastery + purpose + a chance to make a difference". This creates an experience that drives lasting, sustainable change.
What is the single word that comes to mind when you hear the term "engagement"? A live audience poll provided this insight: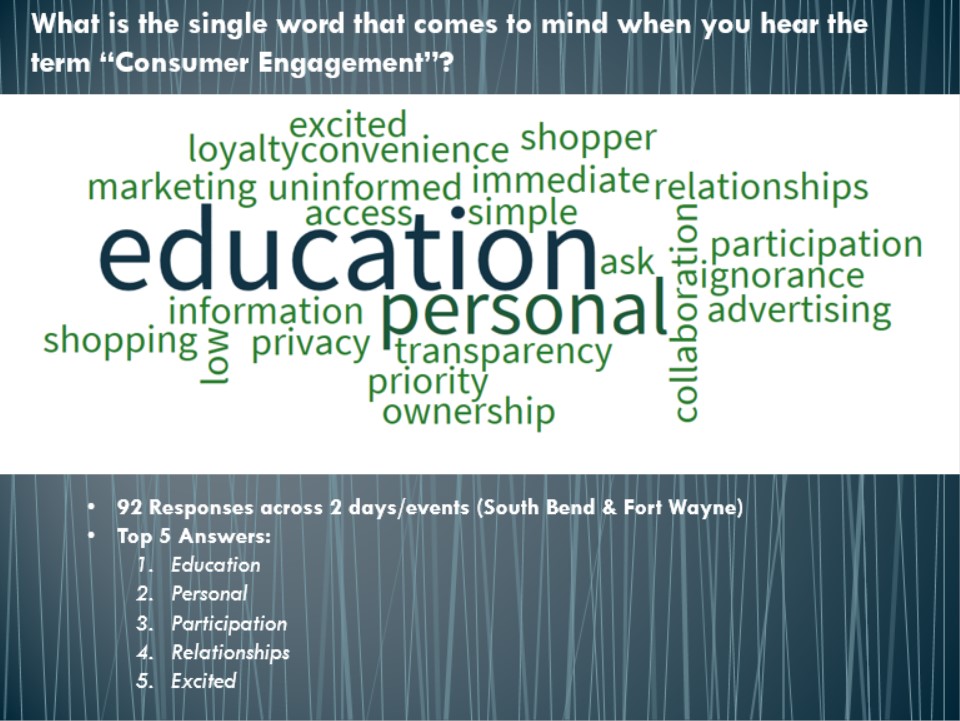 PROTECTING YOUR DATA
Protecting data should be the number one concern of any company. A data breech can be catastrophic to the company, clients, and employees. There are numerous areas of a company that are at risk for a data breech. As a lawyer with Ladue|Curran|Kuehn, John Kuehn has experience working with clients to help identify and protect what's at risk.

Employees should be aware anything done on company-owned technology is lawfully subject to being monitored. This includes: email, internet, and electronic activities. From the first day of employment, employees should know the policy on use of company technology. They should have no expectation of privacy when using employer technology. Employers should also have in place proper off-boarding procedures for when an employee leaves. This helps protect passwords and access to data.

The increased use of mobile, mentioned by both Ron and Josh, provides a unique risk. Employees want to access their email, company files, and HR information from their phones. A lost or stolen device makes a company vulnerable to a breech. Depending on what the employee can access from their phone, confidential company, customer, financial, employee, or patient medical information can be at risk. Employers should have a process in place for when a situation like this arises.

To mitigate risk, employers need to know and make sure to follow policies related to IT and mobile devices. When drafting policies, be sure to pay attention to the National Labor Relations Board (NLRB) rules. Consult your attorney and have your policy reviewed regularly to ensure it's compliant and useful.

Our event wouldn't have been possible without expert speakers: Barton Halling, Josh Hoover, Ron Kraemer, John Kuehn, Jason Johnson, and Mike Nader. And we're grateful for sponsor support from: UnitedHealthcare, Tokio Marine HCC, Paycor, and Travelers.