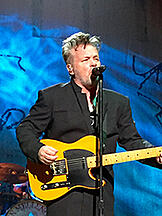 You may drive around in your town
In a brand new shiny car
Your face in the wind, your haircut's in
And your friends think you're bizarre
You may find a cushy job and I hope that you go far
But if you really want to taste some cool success
You better learn to play guitar
~ John Mellencamp, Play Guitar
Sixteen years ago I saw John Mellencamp for the first time at Indiana University's Assembly Hall. On the ride down to Bloomington for the concert I told my friend that I had sadly never seen Mellencamp perform live. I remember him saying how great the show was going to be, but something else he said really stuck with me, "Say what you want about John Mellencamp, but he earns it!"
That evening turned out to be the first of several times I've seen John Mellencamp in concert, including just a few days ago when he kicked off his Plain Spoken Tour in South Bend, Indiana. My friend was right about that 1999 show. Mellencamp delivered. He's not the flashiest guy – far from it. He didn't dance the coolest steps. Nope, that guy just got up on stage and jammed. His band members would take well-earned breaks throughout the evening, but not Mellencamp. He continued to play his guitar, sing, and dance in his folksy way.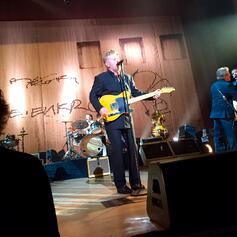 Wednesday night at the Morris Performing Arts Center was no different. About halfway through the show his jacket came off, revealing the now patented white t-shirt and vest look that probably only looks good on him. The brown hair has turned to silver but still remains just as long on top. There weren't any fancy props. And true to form, the only time he took a break was to escort Carlene Carter off the stage.
He did a nice job of mixing in new songs, old songs done in a new way, and all the songs we needed to hear. As he said before starting into Jack & Diane, "I know exactly where I was when I wrote this." I'm quite certain everyone in the audience also connected a moment in their lives to one of his songs.
Being a native Hoosier, it's almost engrained in you from birth that you will:
play basketball, and
know all the words to Small Town by heart.
So my bias about Mellencamp shouldn't be surprising. And I'm not here to say all of his tunes are great (even though personally I am a big fan). What I am stating is that love him or hate him, John Mellencamp performs. He gives it everything he's got, every single night. No matter what your feelings are about the music or lyrics, one thing you won't hear anyone say is that he didn't earn it. Up on stage, he gives a great performance every time. As one critic wrote about a 2010 performance in Oregon, "This concert was NOT phoned in."
One of our core values at Gibson is that We Work Harder. In that same spirit, as I meet with every new hire I let them know that working hard is a part of who we are at Gibson. It's always been that way. That doesn't mean we work eighty hours per week. It doesn't mean we have a poor blend between work and family time. What it does mean is that when it comes time to perform, we will be ready to go and we won't stop until the job is finished. Our clients paid for their "ticket" and they're entitled to our very best effort.
What's The Risk?
In today's sensitive world, "hard work" can actually have a negative connotation. The risk is that you think you can be your best without it.
"Working hard" doesn't mean you have to be a workaholic. It's the effort you apply. It's about not letting your team down. It's about the sense of duty you feel to your clients – the ones that bought a ticket to your show – to give them everything you've got.
Sometimes the road trips get long ("busy season" anyone?) and the person who comes to watch you play on Friday doesn't realize you just gave everything you had at Wednesday's show. They may not appreciate the time you need to prepare. Sometimes they'll forget you to need to rest in between shows. The only show they care about is the one they paid to watch.
The good news is that working hard is something you control. You may get beat from time-to-time by others with more talent, more resources, or better dance moves. They may just be more likable than you. But don't lose because someone outperformed you. As Mellencamp might say forget all about the other stuff and learn how to play guitar.