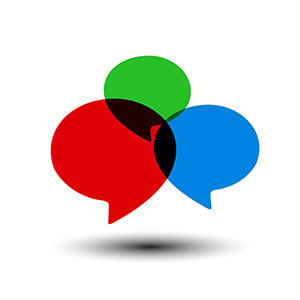 Today we're sharing insight from guest blogger René Boer, a Certified Implementer of EOS. We hope you enjoy René's wisdom and perspective.
It's probably no surprise that employees would prefer feedback to be positive. But what may surprise you is that employees would rather have negative feedback than no feedback at all. Despite this, many bosses confess that they're not particularly good at giving genuine praise or helpful criticism.
Here are some guidelines:
Praise in public and criticize in private – don't mix these up;
Praise more than criticize – think of it as your checking account, maintain a positive balance;
Praise "period" – never end praise with "but" or "however";
Criticize the bad behavior or poor results, not the person;
Criticize to help someone improve not to destroy their confidence;
Be timely with both praise and criticism;
Make it real – give details about how the behavior or performance has helped or hurt the team;
Great Bosses give both genuine praise and helpful criticism. Looking at the illustration below, which quadrant describes you?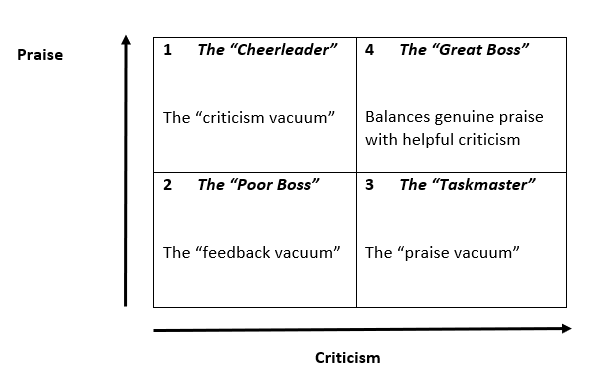 Quadrant 1 – "The Cheerleader" often praises people for their efforts even when goals and objectives aren't met. They think that criticism demoralizes people while praise motivates them. They run from confrontation, not understanding that healthy conflict creates clarity. Their praise becomes tiresome because it's disingenuous and unearned. The "criticism vacuum" leads to mediocrity, poor morale and the blame game.
Quadrant 2 – "The Poor Boss" just doesn't get it. He or she has low emotional capacity and lack of empathy for others. They have a "Just do your job – that's what I pay you for" attitude. The resulting "feedback vacuum" leaves people wondering how to do things and why they're doing them.
Quadrant 3 – "The Taskmaster" is afraid that praise will lead to complacency and an expectation that the person will expect a reward … like a pay increase. The "praise vacuum" leaves people wondering if they'll ever meet expectations because great results aren't recognized and never seem to be good enough.
Quadrant 4 – "The Great Boss" understands how vitally important giving genuine praise and helpful criticism is to build a healthy organization and a culture of accountability.

What's The Risk?
You can't be a Great Boss if you shy away from giving feedback, both positive and negative. When you see something, you must say something. Failing to say something speaks volumes about what is important to you.
Don't miss the opportunity to give genuine praise and helpful criticism. Make your feedback memorable. Doing so is one of the management practices critical to be a Great Boss.
This content was written and shared by guest blogger, René Boer.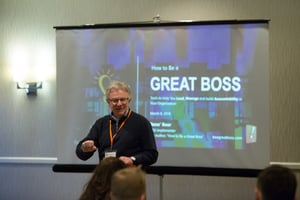 Rene' has 30 years' restaurant industry experience working with well-known brands such as Pizza Hut, Arby's, and Jamba Juice. He's been a franchisee, corporate executive and small business owner. Since 2008, as a Certified Implementer of EOS, the Entrepreneurial Operating System, he has worked with Leadership Teams at more than 50 companies helping them grow their organizations while enjoying more personal freedom.
Rene' earned a BS in Communication from The University of Wisconsin – Stevens Point. He's the co-author, with Gino Wickman, of "How to Be a Great Boss".
A life-long cyclist, he helped create a unique cycling event that, since 2010, has raised more than $500,000 to support the mission of the Davis Phinney Foundation "to help those living with Parkinson's Disease to live better today."
Connect with René on LinkedIn.