Today we're sharing insight from guest blogger Renea Boots, EVP & Chief Administration Officer for Farmers State Bank. We hope you enjoy Renea's wisdom and perspective.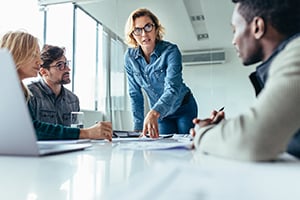 I recently ran across the following quote.
"Surround yourself with the best people you can find, delegate authority, and don't interfere." – Ronald Reagan
Reading these words, I felt myself smiling, remembering that I have often said "Get great people, empower them, and get out of their way!" Maybe I read this quote earlier in my career and stole it from President Reagan, or maybe it just made sense and great minds think alike (except that I don't consider my mind great).
Regardless, there is tremendous truth in the statement. As my career has morphed from HR into corporate leadership, I've learned that developing self-confidence in people, removing hurdles when needed, praising good work, and occasionally cleaning up a mess is really the true day-to-day nature of my role. The other focus of corporate leadership is looking out to next month, next quarter, next year - and preparing the organization for what lies ahead.
Mid-level managers are best equipped to handle most challenges an organization faces each day. The question is - are you letting them?
I've talked with other leaders and heard their frustrations - "No one can make a decision" or "My team expects me to handle everything." Is that truly a reflection of your team or is it more a reflection of your leadership? When I find myself making such a comment, I try to pause and consider a few things:
Do I have the right person in this role?
Have I empowered them or given them proper authority?
Do they have the confidence to exercise the authority?
Do they have the decision making skills they need in this role?
Am I micromanaging this function?
Sometimes as leaders we like to drift back to our comfort zone and get in the weeds, but that really isn't where we best serve. Our talents need to be focused on strategy, removing obstacles, identifying challenges, and gathering team members to collaborate and find lasting solutions.
We must trust our team members to make decisions, communicate with customers, and represent our brand daily. Be available when a team member needs guidance but start the conversation out by asking what they think should be done. The answer to that is either an opportunity to coach (if they aren't on the right track) or an opportunity to praise (if they are on the right track). Either way, you aren't just taking over and telling them what to do, which results in zero development.

What's The Risk?
The risk of not empowering members of your team are numerous. Your day will be filled with making decisions they could have made, solving problems they could have solved, dealing with customers they could have served, rather than performing the needed function of your role – strategy and higher-level issues. Along with that, you will lose talented team members who aren't able to use their skills and don't feel engaged in the organization. You also aren't developing others when you are doing their job, so the remaining team members remain undeveloped. Another result can be causing team members to feel less valued.
So, ask yourself, "Am I getting great people? Am I empowering and trusting them? Am I staying out of their way?" This is an awesome regular checkup all corporate leaders should be asking.
This content was written and shared by guest blogger Renea Boots.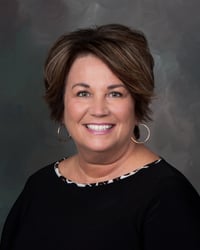 Renea's background includes executive leadership, organizational operations, human resources, training, and marketing experience. She has been a part of the Farmers State Bank team since 2001. Prior to joining the bank, she spent 8 years in manufacturing human resources and a continuous improvement environment. She's a graduate of the University of Indianapolis and serves as a board member for the LaGrange County Community Foundation.
Connect with Renea via LinkedIn. Connect with Farmers State Bank via their website and Facebook.