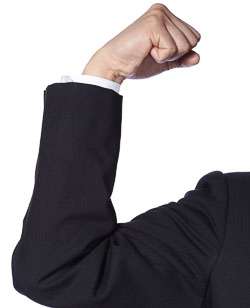 As I am sure you have figured out by now, one thing that occupies a large amount of my personal reflection time, or as my colleague Jerry Scott calls "sharpen the saw" time, is how to build a stronger Gibson over time. "Strong organizations grow, thrive, and find a way to reinvent themselves in changing times and market conditions," says Jerry.
He's right. They stand the test of time and provide support and a good living for their employees and families over the course of entire careers. They also contribute in very meaningful ways to the success and vibrancy of their communities.
Jerry and I wrote a couple of weeks ago about the emerging concept of leveraging each employee's strengths as a driver of breakout performance. To really make that happen, in essence to build a company based on leveraging individual employee strengths, requires us to rethink many of our human resource (HR) practices and certainly to challenge long-held conventional wisdom.
In the book "First, Break All the Rules" by Marcus Buckingham and Curt Coffman, the authors offer four keys to help overturn conventional HR wisdom. They state traditional HR gets "barricaded behind a wall of selection, training, compensation, and performance management systems" resulting in a common way of treating all employees. Instead Buckingham and Coffman encourage us to change our view.
Focus on outcomes. Define roles in terms of outcomes and find a way to rate, rank, or count as many of these outcomes as possible. Then seek to set employees free to find the best way to achieve the outcome.
Value best in class performance in every role. Set up different levels of achievement in every role and identify specific criteria for moving up from one level to the next. Set up broad banded compensation plans and identify specific criteria for moving up (or down) within each band. Celebrate achievement which, again, requires a way to measure achievement.
Study your best. Start with your most significant roles and study your best practitioners. Build a talent profile for each role. This will help you select more people like your best.
Teach your managers. Show them how to identify performers and how to encourage and support the use of employee strengths.
If you start down this path, you quickly realize that it could be necessary to make some changes in your core systems. Like most organizations, our salespeople are compensated based on retaining and growing client relationships. However, when it comes to service roles we have a very traditional compensation and annual review process. Should we consider something that rewards individual performance?
Reflection on these issues will certainly lead you to think about metrics and goals that can be measured and quantified down to individual employee levels. In fact, it may be necessary in order to more heavily reward your peak performers.
Another core issue is where leaders spend the most of their time. Do they spend more time dealing with poor or average performers or do they spend more time making their best performers better? An approach based on strengths would suggest that focusing and spending time on your best would yield more long term value and company performance.
As I mentioned in a previous post, Gibson has been focused on these issues for the past few years. We have redesigned core operational roles to better leverage employee strengths specifically dividing a 19-person department based on a single job description into two separate functions today with 11 in one and 8 in another. As a result, we have seen positive changes in our productivity measures.
We are assessing applicants for strengths and matching job openings to their strength areas. With Jerry's help, we are working on learning how to quantify performance metrics and how to set up goals and objectives based on those metrics. And we are working on being more open and honest in discussions about performance. I find this last one especially difficult for many Hoosiers as we sometimes find being honest and being nice mutually exclusive.
What's The Risk?
The risk is that you let the comfort of traditional thinking and the fear of trying something different get in the way of being the best you can be. There are a lot of ways to say it, but the bottom line is that the more time you spend – and help others spend – on the things you and they do the best, the better your organization will be.
As Jerry will tell you, it feels like, "We're working on the car while it's running down the road!" It's not something we can pause to implement. It is clear that we have to continue evolving. Part of that evolution is continuous improvement of our management, leadership, and people processes.
All I'm really saying is give strength a chance!