Today we're sharing insight from guest blogger Dr. Julie Lauck, Superintendent of Valparaiso Community Schools. We hope you enjoy Dr. Lauck's wisdom and perspective.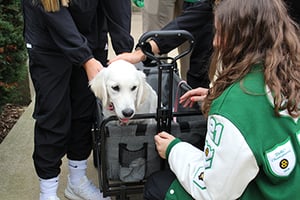 Great ideas often come from simple beginnings. Much like the beginning of a favorite movie of mine, Out of Africa begins with "I had a farm in Africa…" the story of an initiative we started this year in our district begins like this, "I had a Yorkie with a tummy ache."
I took my dog to the vet late last spring. Dr. Bill Donohue and I began talking about his sponsorship of our one and only therapy dog. My comment to Dr. Donohue was that I would have a therapy dog in every school if I could. Dr. Donohue offered to sponsor any dog we could place. He added that he had a patient expecting a litter of ten English Cream Golden Retrievers. I looked at him and said, "I'll get every single one placed." He provided me with the contact information… and so it began.
Within days I had eager team members wanting to be handlers. Within four hours of securing handlers, I raised $12,000 from local sponsors willing to help with the initial costs of purchasing the pups, setting up the working area at each school, and helping with training costs. In the end, we secured nine of the ten puppies. By the first day of school we had a dog in all of our schools.
Although the random beginnings of this project and support from sponsors and Dr. Donohue's team are remarkable, the real importance of this project is the support these dogs provide for students and staff. As Superintendent, I tend to get a bit of attention on opening day as students and parents are walking up to the schools. This year that attention was totally usurped by Eva, our therapy dog at Northview Elementary School…and I gladly let her take all the attention. To see the absolute joy on the faces of students and their parents as they approached the school where Eva was waiting for little ones to come up and pet her, was probably the best moments of any first day of school for me. From the moment the first timid kindergarten student walked up that sidewalk and smiled as he made a beeline toward Eva, I knew we were doing something extraordinary. Many schools have therapy dogs; however, not many (if any) obtain this many dogs, train them as a group, obtain thousands of dollars in sponsorships, and have a veterinary clinic offer to support the costs of on-going medical needs.
The most difficult thing to overcome when taking on such an endeavor is gaining support from leadership. In this situation, leadership took the reins (or leash) from the start. To make this happen, we have had to adjust our policy, clear the project with our insurance company, address fear of dogs for some, as well as monitor allergy concerns. Aforementioned issues have not been viewed as daunting for us – we know that we are doing good things for students and staff, so we continue to work through any issues that arise.
So, how did we get this puppy project established and supported with non-tax payer funds? I first made the decision to target key sponsors. I did not just ask for money, I gave potential sponsors an opportunity to sponsor a specific puppy. Like triple Crown thoroughbred Secretariat's owner Penny Tweedy as she tried to get her key donors to sponsor breeding rights, I went first to my top go-to community donors and made it clear that they were receiving the first right of refusal to sponsor this unbelievable opportunity to help students and staff. Not one refused to take advantage of this opportunity. I let everyone know, not as a point of obtaining credit but as a show of total belief in this project, that my husband and I were donating the first $1600 to secure the pups once they were born. I wanted everyone to know how important this was to me as superintendent, and how important it would be for our students and staff. I am fairly accomplished at raising funds, but I have never raised $12,000 in under four hours.
The secured funds went toward the initial purchase of the dogs, supplies needed for the handlers to get set-up, and training. We connected with a local trainer, Lisa Bataska with Stoney Run Canine Camp, who was willing to train all of our pups at the same time. We used one of our elementary school cafeterias for Sunday evening training sessions.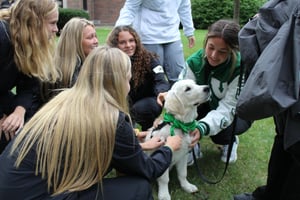 Beyond the plethora of research available, I have seen firsthand over the years the impact dogs make on both students and staff … and the superintendent! I have witnessed non-verbal students say, "dog" as a pup snuggles onto a lap. I have watched smiles appear on faces of sullen or anxious students. I have heard adults say, "I just need to see that dog today!" I cannot think of a better way to grab the attention of 60 second graders on the second day of school than to tell them that if they get the right answer, Moose will do a trick. I found myself wanting to raise my hand…and I was pretty sure I did not have the right answer! Animals impact people in so many ways – comforting, calming, and companionship without any fear of judgement or rejection. That is what we have given to our schools.
I invite you to contact me if you have any questions, or need assistance in getting therapy dogs in your schools or business. I also invite you to follow our pups on Facebook and on our school website. We continue to seek donations to help with on-going expenses. Donations are tax deductible and can be made to Valparaiso Community Schools Puppy Project and dropped off, or mailed to: Dr. Lauck, 3801 N. Campbell, Valparaiso, IN 46385.
Finally, I want to give credit to our sponsors, veterinarian, breeder, trainer, and others – all of whom are integral in the success of this project: Thorgren Industries, Urschel Laboratories, Dr. Behrend Family Dentistry, Skillman, Gibraltar Design, SchoolGuard, Sarkisian Law Offices, Mark and Sue Hoffman, John and Carole Clark, Debra Fray, Kevin Cornett, Vale Park Animal Hospital, Carrie Schmidt (Breeder), Lisa Bataska (Trainer), BarkBox for monthly donations for our Viking Pup of the Month, and all the others who have generously donated money, toys, and treats.

What's The Risk?
If we ignore the ideas that energize and excite us – be it because they seem far-fetched, too challenging, or too simple – we may miss out on opportunities to make a difference in our teams, organizations, and communities.
Not having therapy dogs as a resource in our schools was simply unacceptable to me. This was a no-brainer for me. Yes, it took (and continues to take) a lot of time, effort, and raising of funds, but we got it done. There is no risk in garnering smiles so I can honestly say that I am totally fine that a smiling student runs right past me to hug one of our dogs – either way, it puts a smile on my face.
Is there an idea forming in your mind that you have hesitated to act upon? I challenge you to give those ideas a chance. No matter how an idea begins, with the right support it can turn into greatness.
This content was written and shared by guest blogger Dr. Julie Lauck.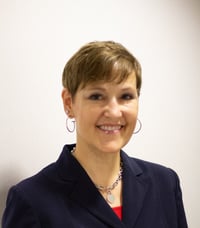 Dr. Lauck has served in multiple levels of education and educational leadership positions since 1993. Dr. Lauck earned her Bachelor Degree in Secondary Education/English from Indiana University at South Bend while working midnights as a dispatcher for the South Bend Police Department. Dr. Lauck continued her education by earning a Masters from IUSB in Educational Leadership before going on to earn her Education Specialist and Doctorate from Ball State University. Dr. Lauck's dissertation was focused on averting incidents of school violence.
Dr. Lauck currently serves as Valparaiso Community Schools Superintendent. She is also an adjunct Field Supervisor in the Ball State University Educational Leadership Department mentoring aspiring future building level leaders.
Connect with Dr. Lauck via email. Connect with Valparaiso Community Schools via their website, Facebook, LinkedIn, and Twitter.