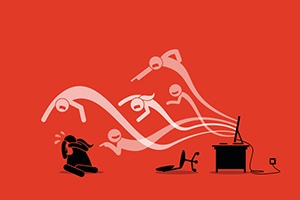 Harassment and bullying are two topics you often find mentioned in the news. Both are wrong and should be dealt with quickly and appropriately.
Harassment, as defined by the U.S. Equal Employment Opportunity Commission (EEOC), is "a form of employment discrimination that violates Title VII of the Civil Rights Act of 1964, the Age Discrimination in Employment Act of 1967 (ADEA), and the Americans with Disabilities Act of 1990 (ADA)." Harassment must be unwelcome conduct based upon:
race
color
religion
sex (including pregnancy and sexual orientation*)
national origin
age (40 or older)
disability or genetic information
To become unlawful, the offensive conduct must become a condition of continued employment or be so severe that it creates a work environment that a reasonable person would consider intimidating, hostile, or abusive.
Bullying, as defined by the American Psychological Association is "a form of aggressive behavior in which someone intentionally and repeatedly causes another person injury or discomfort. Bullying can take the form of physical contact, words, or more subtle actions." Currently, there are no laws that specifically cover workplace bullying. If the bullying behavior is based upon any of those classes protected by the EEOC, it is possible that the behavior is in violation of those Acts.
A 2017 national survey conducted by the Minnesota Association of Professional Employees found 19% of Americans are bullied, another 19% have witnessed it, and 61% of Americans are aware of abusive conduct in the workplace. It's important for employers to recognize the signs of bullying within their organization. These may include:
Poor morale or working relationships within the organization
Increased or prolonged absences
Loss of productivity
Deteriorating client relationships
Complaints or negative comments about senior staff members
It can be difficult to prevent bullies. It's important to deter them and empower victims to report the abusive conduct. Employers should:
Develop a formal anti-bullying policy that is reviewed with existing and new employees
Set an example of good, non-bullying behavior at the senior levels
Treat every complaint or suspected bullying incident quickly and impartially
Ensure all complaints are dealt with in confidence (to the extent possible)
* The 2nd Circuit (New York, New Hampshire, Connecticut) and 7th Circuit (Indiana, Illinois, Wisconsin) Courts of Appeals have found that sexual orientation is protected under the category of "sex". As of when this blog was published, the 11th Circuit (Alabama, Georgia, Florida) has held that sexual orientation is not protected under Title VII. The issue is currently pending before the 8th Circuit (North Dakota, South Dakota, Nebraska, Minnesota, Iowa, Missouri, Arkansas).