Today we're sharing insight from guest blogger Mike Cahill, member of the Gibson Board of Directors, CEO of AWS Foundation, and former CEO of Tower Bank & Trust. Tim Leman is taking time off from writing his weekly blog to work on an exciting project focused on culture and leadership. We hope you enjoy Mike's wisdom and perspective.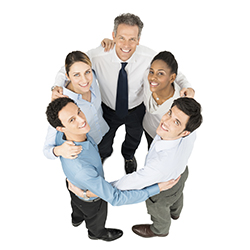 People who know me know I enjoy mentoring young people. Maybe it's because I have four children born between 1984 and 2000. Maybe it's because the demographics show this to be the largest population group. Or maybe it's because this generation is just beginning to influence the workforce.
As much as we talk about Millennials, let's not forget about Boomers and Gen Xers. These two generations currently dominate the workplace. I'm a Boomer. The gray hairs give it away.
Encompassing the ages 33 to 68, there is immeasurable knowledge, experience, and perspective to be gained by interacting and involving ourselves with this group. They've seen the high interest rates and inflation of the late 1970s and 1980s, the Great Recession of the early 1980s, the commercial real estate crash of the late 1980s, a wave of bank failures in the early 1990s, the tech boom and bust of the late 1990s, and many other notable cultural and workplace manifestations.
As CEO of a publicly traded bank for the last decade, we were very active in attracting Millennials to our workforce for all the reasons one reads about; however, I focused my time on the development of Gen Xers. Why?
These folks have enough time in the workplace to develop their individual skill sets. They've had a chance to prove their emotional intelligence through managing staff, weathering crisis, and being responsible for more than just themselves. It's one thing to develop your own individual skill set, it is quite another to effectively develop others.
By focusing on Gen Xers, we allowed for a smooth succession in leadership. And it created leaders who developed those underneath them well into the future. So what if we ask Millennials to connect and benefit from Boomers and Gen Xers? Slightly different approach to Millennial development.
In looking back on my career, I had many influences through formal and informal mentors. My grandfather, The Greatest Generation, was born in the early 1900's. He lived through the Great Depression. He lived through two world wars. He lived during an incredible time. He went from watching horse drawn carriages, to cars, to airplanes, to rockets to the moon. He watched computers be invented and introduced in the workplace that were as big as a city block. He had a PC on his desk when he retired. The things I absorbed by being around him are too many to mention.
When I first moved to Fort Wayne, Indiana in the mid 1980's, I was fortunate enough to work for a gentleman who was born in 1937. He took me under his wing and showed me the importance of involvement in the community, having a vision of what one wants to accomplish, not being afraid of taking big risks, and being a lifetime learner. Another gentleman who preceded me as CEO of the bank showed me the importance of relationships, in general, not just work related. He modeled the way for me, and gave me the right push to get more involved in the community. Many board members at the bank who ranged in age from a decade younger than me to two decades older were able to make me think differently and challenge me to become better at everything I did. These people did not find me, I found them.
What's The Risk?
There will soon be more Millennials in the workforce than Boomers or Gen Xers. In about one decade, we will have too many Millennials chasing too few mentors. If the old adage 'one who does not know history is doomed to repeat it' is true, we have a crisis looming. My advice to Millennials would be to start focusing on finding informal and formal mentors in the generations ahead of me. The amount of knowledge that needs to be transferred is immense.
I have heard too many times that getting ahead is all about who you know. I'll argue that it's actually who knows you and what they know about you.
As a 50+-year-old CEO, I am constantly looking to identify talent. Those that are knowledgeable, work hard, carry themselves well, are focused, and have strong people skills will always have opportunities. The key for Millennials is to make sure they are known by the many influential Gen Xers and Boomers. And be known for all the right reasons.
One way to do this is through involvement in civic organizations. We can give time, talent, and treasure. When I was younger, the treasure portion was certainly lacking. However, I had the time and the talent. Like everything in life, good things happen to those who hustle.
This content was written and shared by guest blogger, Mike Cahill.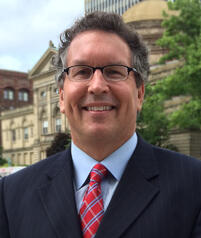 Mike is on the Board of Directors at Gibson. His years of leadership experience provide an unrivalled perspective into the risks organizations face at every level.
Mike is an integrity-driven executive who has led companies through challenge and change to maximize growth and profitability. He is a strategic problem-solver who envisions smart solutions and executes with clarity. Mike is a CPA with a strong financial background and broad leadership experience in banking, investing, lending, insurance, and real estate. He is experienced in board governance and communication, investor relations and capital markets, as well as, mergers and acquisitions.
Prior to joining Gibson's Board in 2014, Mike spent ten years with Tower Bank & Trust, in CEO and CFO positions within the holding and main subsidiary bank.
Mike spent over 15 years in real estate development, financing, management, and valuation, and over 10 years of health care ranging from valuation of physician practices, establishment of physician and hospital networks, and direct health insurance industry positions.