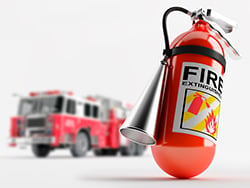 We understand the steps to fire prevention and protection for our home. We teach our kids the importance of smoke detectors and why they need to be checked regularly. We establish an escape plan and determine a meeting place. In school, our kids learn what to do and where to go in case of a fire. And they participate in numerous drills.
But what about our workplace? Are we properly prepared to handle a fire? Have we trained our employees and practiced our action plan?
Just as with your family or at school, taking time to plan BEFORE a fire can be critical to survival. Here are four basic steps to help you create a pre-fire plan:
Step 1: Information Gathering
Collect data about your facility such as building construction type, sprinkler system designs, and fire pump information.

Do you have information from when the fire protection was installed? If so, gather the original design prints and any underground and above ground certification test results from the installation.
Prepare a facility map and note the location and quantities of hazardous materials and machinery.
If you are the only occupant of the building – gather the important alarm system details such as the phone number for the company managing the alarm and the access codes.
If your business occupies a multi-tenant building, be sure to coordinate with other tenants and share your plan. Make note of the other businesses hours of operations and contact information, as well as the floors that are occupied.
Step 2: Plan And Publish
Develop a written emergency action plan. Make sure all employees can understand it and it is easily accessible for necessary updates.

The plan should include: facility maps with exits marked, outside meeting locations noted for all employees, fire suppression system information (from design to annual testing reports by contractors), and building construction details including locations of main utilities and hazardous material storage.
Make multiple copies of the plan so it is easily accessible.
Post the facility maps with exit and outside meeting location details in multiple locations throughout your facility, including at each emergency exit.
Always keep emergency exits and walkways clear for emergency travel. It is not only important for your employees but also for those are working to save your business in an emergency.
Check emergency lighting to make sure it works and lights up the areas that needs to be lit.
Step 3: Drill, Drill, Drill
Discussing an event does not prepare one to take action – it is crucial to have regular drills.

Track performance during the drills. Time the total evacuation of the facility and the time it takes to COMPLETELY account for everyone.
Take into consideration visitors and outside vendors – having a sign-in sheet and controlling entry in your facility will give you the knowledge of who is there.
Consider outside sales personnel who may be out of the office on a regular basis – how do they communicate that they are "in"?
Mix it up! Block an exit point (with your body) telling the employees that this is the fire point – you will be surprised at how one small change may affect the response to evacuate. We have to be keen to the fact that people are creatures of habit and the way we enter a facility is the one way we know for sure how to exit. This forces us to look for different exit routes in the safe environment of a drill.
Step 4: Pre-Plan With Your Local Fire Department And EMS Personnel
Everyone likes to show off a little, and you have worked hard to get to this point. Call the Chief or Inspector for your location and invite them for a walk through.

This can and should be done with the entire department because familiarity with your facility can help to reduce damage should an event occur.
Share with them your facility maps and allow them to take notes on the hazards that they see. They may even be able to help point out hazards that you had not thought of or recognized.
We spend significant time teaching our children how to plan ahead for a fire…be sure to also put considerable effort into making sure your workplace is prepared. Taking time to create a pre-fire plan is crucial. Being prepared saves time in an actual emergency - where every second counts.