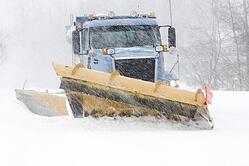 Knowing what's included in your homeowners coverage before you have a claim can be incredibly valuable!
Indiana has been hit hard by winter storms recently, with tens of thousands left without power when storms ripped through the state in November 2013. Even once the winds died down and the lights were back on, many residents were left facing severe damage to their homes. The bitter cold we've experienced this winter is also causing damage in the form of frozen pipes, ice dams on roofs, water back-up, and fallen tree limbs due to ice.
While every homeowner's policy is different, some of the most common forms of winter storm damage covered by most homeowner's policies include:
Damage caused to your property structures by falling trees is covered by most homeowner's insurance policies. Some policies also cover the cost of removing the tree subject to a policy limit.
If you have been hit by extremely cold conditions recently, it's likely your insurance will respond to losses like water damage caused by burst pipes or ice dams. Covered costs typically include the cost of water extraction and/or dry-out, repairing walls and replacing contents. Damage that occurs when the weight of snow or ice causes a part of your property to collapse is likely covered as well.
You do not have to simply write off any additional costs as a result of winter storms. Some policies maintain a limit of insurance to compensate you for food in a fridge or freezer that has spoiled as the result of power going out. This coverage often comes at a smaller than policy or no deductible.
Should you be faced with a claim situation, you do have a duty to take reasonable steps to protect your property from further damage. Then contact your insurance agent or carrier to see if they need to do an inspection prior to further repairs/clean-up being done. Preserve any evidence of the damage by taking photographs and retain damaged property until an adjuster from the insurance company has confirmed it's okay to dispose of it.
Being familiar with the contents of your homeowners policy can save you time and stress when a claim occurs. Your insurance advisor can help you navigate your policy so you know exactly what coverages apply and can assist you in your situation.
Questions about what your policy covers? Our advisors are ready to assist you! Simply call us today.