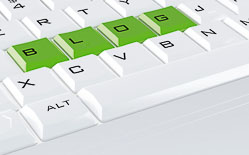 This is my 52nd weekly blog. It's hard to believe a year has passed since I first gave this blogging thing a shot. Thank you for reading it, thank you for your comments – both public and private– and thank you for your inspiration!
There are plenty of articles that point to the value organizations receive when their leaders actively communicates to stakeholders. Blogging is a great way to do that and I thought I'd share what it's meant to me.
Platform For Important Issues: Every week I have a formal venue to share my thoughts, struggles, goals, plans, or just my feelings on issues I think are important to our company, clients, and community.
Record Of Gibson: There is a healthy written record of what we believe in at Gibson. If a prospective employee or client wants to know what we're about, it's all out there.
Accountability Partner: I soon realized that every Friday when I publish another blog, in essence, I raise the bar for what others should expect of me.
I'm Human After All: The thing is I make mistakes. Lots of them. And even I don't have the discipline to follow my own public advice every time. (Those of you that already knew me well had ZERO doubt about my "human-ness"!) At the end of the day, I'm just a Dad, Husband, Friend, and Grandson myself, facing all the same issues that everyone else does.
Honoring Mentors: It's been rewarding for me to share how some truly amazing people took a liking and invested in me over the years. I'll never be able to fully repay them other than trying to pay it forward to others. But the blog has given me a forum to tell a few more folks about these special individuals.
Remaining Engaged With Clients, Centers Of Influence, And Other Leaders: Whether they are just being very kind or don't know what else to talk about, rarely does a business meeting take place anymore without some good natured ribbing about a recent blog or advice for a future one. I've gotten some great ideas from them and learned about their journeys as well.
Reconnecting With Old Friends, Professors And Colleagues: As the blog gained traction, emails and texts started to pour in with memories, fresh advice, and gratitude. Many start out with a "Your blog reminded me of my…." They are great stories and it means a lot that I am able in some small way to help trigger those memories.
I've Learned A Lot: Some of the blogs were just stories I've wanted to tell, but others required some research. Even the whole idea of blogging turned me on to some great writers and thinkers. The advice and ideas I've received from others along the way has made my blogging experience worth it all by itself.
I've Become A Better Communicator: My apologies for the length of some of my blogs. It's tough to get your ideas out there in a concise 500 to 1,000 words! I knew I had some work to do when just a few blogs in, my Dad told me that he "really didn't care for the most recent blog". Hopefully they've gotten better! I don't know if my 7th grade Language Arts teacher Mr. Rothert saw it or not, but here I am, a writer of sorts.
Renewed Bond With My Grandmother: Yes, the blog about life advice from my Grandma Dorothy Gerber has been the most popular post. While that's kind of neat and shows you how much people enjoy personal stories, it meant so much more to me. As we played a domino game over the Christmas holiday this year, it was still the topic of conversation with my Grandma, aunt, and cousins.
Speaking of Grandma, I'd be remiss if I didn't thank her and some other friends, family, and colleagues for being my "#1 Fans". Without fail, out of duty, or because you feel sorry for me, you faithfully comment, like, forward, share, and reply. It means a lot! It actually makes me think that people are reading my blog each week.
What's The Risk?
I finally realized the only risk for me was a little lost time and a bruised ego. Turns out the investment of time, while meaningful to do it right, was not as much as I anticipated. And the return has been so much greater than I expected. As for the bruised ego, well yes not all the feedback has been 100% positive, but it has all been well intentioned.
So, what are you waiting for? Just get started writing something. Don't feel overwhelmed like you have to commit to a weekly blog or a book. I even heard blogger supreme, Seth Godin say you should start publishing your blog but don't tell anyone about it until you're ready! Just start with one. Your team, your clients, and your community would benefit from some of the things you have to share.