Today we're sharing insight from guest blogger Cat Edmonds of Blackink IT. We hope you enjoy Cat's wisdom and perspective.
Approaching company culture in a hybrid environment can be overwhelming. Especially when circumstances arise without much forewarning (insert a global pandemic here) and require immediate action. As a leader, it becomes your responsibility to ensure your employees are able to work safely, productively, and collaboratively while also working remotely. And if this wasn't enough stress, your leadership is also a key factor in encouraging and promoting your company's culture.
There are different approaches on how to implement culture while working in a hybrid environment and we discussed these during a recent webinar. Below are our top 5 takeaway points for leadership.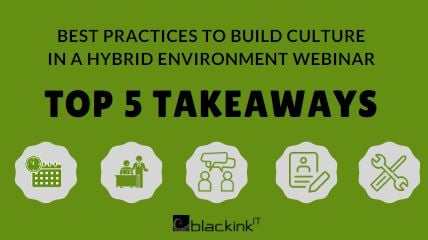 1. Be Intentional
Everyone gets "Zoom Fatigue". A way to combat this is to be mindful of everyone's time. Be intentional in your meetings. Have an agenda and stick to it. Try to be brief and cut meetings short. Don't schedule an hour when 20 minutes will suffice. The meeting lengths will differ from when you were in-person.


2. Be Consistent
Try to be consistent with your team members. Offer weekly 1:1 meetings or a space where you are available for conversations (weekly virtual happy hour). Let your staff know that you are open and available for discussions about anything and stick to it. This will also help facilitate trust within your organization.


3. Recreate Spontaneity (the lunch table/water cooler)
An idea discussed in our webinar was the concept of Cultural Buddies. This would be an opportunity for your staff to volunteer to pair up with a new employee. They can share the company values and traditions. This will help new employees get a sense of the company from someone with first-hand experience. A great way to integrate with the team virtually. This can also encourage those spontaneous collaboration moments commonly referred to as 'water cooler' chats. See our blog for more insight on creating spontaneity virtually!


4.
Rebuilding Your Onboarding Process
Bringing on new employees virtually has become a common topic for many companies during this past year. In our discussion, our panelists encouraged being creative and asking for feedback from your employees. Be transparent about the process and make tweaks when necessary. 'Funtivities' (fun activities) where you can connect with employees virtually like a scavenger hunt (ex. find someone on the team whose birthday month starts with 'A') can also be a helpful way to engage the team in the process.


5. Useful Tools To Encourage Engaging Communication
Another way to help your staff stay engaged with each other is to invest in the right tools. Microsoft Teams is an easy-to-use communication platform that enables your staff to instant chat, video call, and send emoji reactions to messages. This allows your staff to stay connected easily without driving your email wild. Teams also integrates with many different applications that can be helpful. One of our favorites is Icebreaker. This application pairs different members of our staff together bi-weekly for a quick "coffee break" which helps collaboration.
If you would like to hear the whole discussion on Best Practices to Build Culture in a Hybrid Environment check out this link!
This content was written and shared by Cat Edmonds.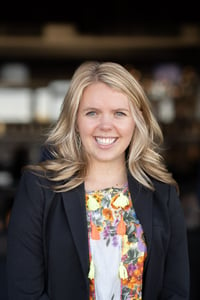 Cat Edmonds is a South Bend native and moved to Indianapolis for the Orr Fellowship program, which is a two-year program focused on recruiting and developing the next generation of business leaders and entrepreneurs. Currently, she works for Blackink IT in business development where she is focused on making sure individuals have the proper technology and security to achieve their business objectives. She enjoys being involved with various organizations both in South Bend and Indianapolis that empower individuals to become the best version of themselves.
Founded in 1993, Blackink IT is a privately held corporation, headquartered in Indianapolis, Indiana. Blackink IT is focused on keeping you safe and productive. The team is focused on helping your company optimize your technology to help grow your business. They tailor solutions to meet each client's unique business needs, leveraging best-in-class technology and services to deliver reliable IT solutions and business strategies. Blackink IT helps people answer these questions: Frustrated with your downtime due to technology? Unsure where your information is backed up? Concerned if you are fully protected?
Connect with Cat via LinkedIn. Connect with Blackink IT via their website, LinkedIn, and Twitter.