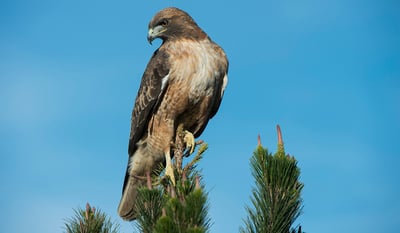 We are playing an infinite game at Gibson. The purpose of our game is different from the finite games most of us are used to playing.
Our desired "win" is not to beat some other group, but rather to keep our deepest values "in play". It's our values – being authentically lived out by our amazing employee-owners – that's creating our greatest impact. From our own employees, to our clients, friends, and community members, we're in business to help others find their edge.
Winning a new client, hitting our numbers for the quarter, or nailing our annual goals are all meaningful milestones or measures of progress. We aim to achieve those. But they are only finite scores, with defined winners (and losers). Even a multi-year plan is just that: a longer-term goal with a specific outcome, and still a defined end.
Maybe a "goal" of continuing play doesn't sound very exciting to those on the outside. Perhaps it inadvertently signals a lack of accountability. Nothing could be further from reality.
We're playing for something bigger by advancing our Just Cause. At Gibson, we help people find their edge and go on to own it in ways that are far bigger than us.
Simon Sinek says there are five criteria to have a Just Cause. It must be:
For something,
Inclusive, using the collective strength of others,
Service oriented,
Resilient & durable, and an
Idealistic vision of the future in a changing world.

Through this infinite lens, do we have a Just Cause at Gibson?
We help our clients find, grow, and leverage their unique edge. The same goes for our employees, supporting their success at work and the things they want to do and become beyond Gibson.
Our impact stems from 150+ employee-owners, and their families, playing for each other, contributing, growing, building, helping, and leading our clients and communities.
We operate in the service of others: our clients and their employees, our people, and the members of our community.
As the scope, source, and types of risk evolve and change at an ever-increasing pace, providing a sightline into the future with expert guidance, advice, and protection grows in importance.
We know that what we do is the very thing that guarantees commerce, the world over. We're behind the scenes, and that's just fine with us. Because we fully realize that our clients and our people are working to advance their most important causes. Like the watching hawk in our logo, we're there, tirelessly scanning the horizon for what's coming next, in our always unfinished pursuit to help them find and own their edge.
With this as our vision, we have a long-term – dare I say infinite? – outlook on everything we do. We have no choice but to invest fully in our future. Our greatest impact comes from continuing play.
When personal gains conflict with our Just Cause, the cause will prevail. A global catastrophe might contribute to missed quarters or years. They only amount to finite losses along the way.
As Jim Collins said, the future is going to be series of "not normal episodes". Our clients and our people are only going to need us more.
So, we will be prepared, operating in a state of readiness, creating capacity for a major pivot or minor ones. And our infinite game plays on.