Today we're sharing insight from guest blogger Ron Kitchens, Chief Executive Officer at Southwest Michigan First. We hope you enjoy Ron's wisdom and perspective.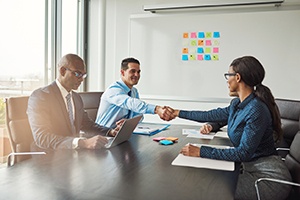 When hiring new team members, typical organizations focus on resumes and references. Great organizations, on the other hand, focus on selecting the best people based on talent, strengths, and fit. It may be faster to scan credentials and hire based on pieces of paper, but I guarantee that a strategic approach will lead to fewer regrets in the future. Simply put, we as leaders need to know what to look for and how to find it.
Talent And Strengths
When I see people who are miserable at their job, usually the problem is not their workplace. The real problem is that their responsibilities don't match their strengths and passions. They just aren't hardwired to thrive in that position.
If you're like me, you want to drive growth by hiring people who are both productive and engaged in your mission. Thankfully, there are many modern tools that can help you map a candidate's inborn talents. For example, the Gallup Clifton Strengths assessment is a great way to discover what people do best and how they will fit into your team. All you have to do is know which talent profile will best match the job description. Do some research and find out in which areas top performers of the field excel, then identify candidates that fit those proven profiles.


Diversity Is Destiny
It's clear to me when management does not have a sensible hiring strategy because their teams all tend to look exactly like the leader! Whether you know it or not, we naturally gravitate towards people who remind us of ourselves in some way. This might mean gender, race, or even where a candidate went to school or grew up. As a result, some organizations unintentionally end up with teams that reflect the leader.
Great organizations understand that diversity is destiny, and that including multiple perspectives is a terrific advantage. They hire candidates who bring something new to the table. To make this possible, we have to remove ourselves and our preconceptions from the process. We should go after a large melting pot of talented people and then narrow it down to a small group. Then, once we have identified the elite finalists, each candidate rises or falls based on their fit, their capacity to lead, and their ability to engage with the rest of the team.


Finding The Right Fit
When it comes to hiring, your team can be your greatest asset. When you have to fill an open position, you want to make sure that not only is the candidate capable, but also that their attitude, work ethic, and personality will boost the culture of your team. That's why getting to know candidates through "team-fit" interviews is a critical part of our hiring strategy at Southwest Michigan First.
To assess fit, we invite the interviewee to go out to lunch with some of our team for an informal "get to know you" conversation. During the interaction, our team members observe the candidate and ask themselves, "Do I want to spend half of my waking hours with this person?" For example, if they go to a restaurant, they may watch how the candidate treats the waitstaff to gauge their values.
Southwest Michigan First has also developed a series of questions that reveal certain qualities we want to see in our candidates. One question we like to ask is, "What is your favorite type of sushi?" To be honest, it doesn't matter if the candidate hates sushi, or has never tried it—as long as their answer indicates a willingness to take chances and try new things. The only wrong answer to this question is: "Sushi? You mean raw fish? I would never eat raw fish!"
After the team-fit interview, without discussing their opinions, our team reports back privately. For a candidate to move on to the next stage of our hiring process, the entire interview team must unanimously agree and each person must be willing to write me a note saying, "I believe this person has what it takes to succeed on our team, and I understand that their success or failure is a direct reflection of my leadership and ability."


What's The Risk?
Yes, it can take time to find the right person for the job, but I believe that no matter how long it takes, it's always worth the wait. Sometimes, a position can be left unfilled for months before the right candidate walks through the door, but that's okay with me. Going beyond resumes and references can be time-consuming, but when every new hire is both a top performer and a perfect fit, your team will be ready to thrive.
Always Forward.
— Ron
This content was written and shared by guest blogger, Ron Kitchens.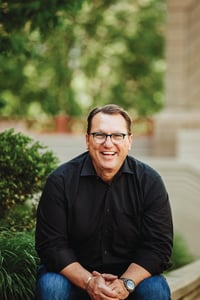 Ron's focus is to lift up leaders by accelerating their impact, influence and well-being in career, family and community.
Ron is the senior partner and chief executive officer of Southwest Michigan First, an economic consulting firm, which has grown 20% annually under his leadership. In addition, Ron leads Consultant Connect, is the publisher of 269 MAGAZINE™, board member of Impact Athletic, chairman of the Kalamazoo Institute of Arts and a Trustee of Western Michigan University.
Ron is the founder of the leadership conference Catalyst University and the co-founder of NEXT, an invitation-only leadership symposium for global economic development leaders.
Ron and his teams have been extensively featured in over 100 national and international media outlets including The Wall Street Journal, Fast Company, CBS, NBC, Fox, USA Today, Forbes, Fortune, The Economist and National Public Radio.
Southwest Michigan First is recognized as one of the Top 5 Best Places to Work in America by Outside Magazine, as well as a National Best & Brightest Company.
Ron is author/co-author of 3 books, including the bestseller Community Capitalism and speaks globally on leadership, creating thriving multi-generational teams and community capitalism, and his new book Uniquely You will be released in 2019. He blogs and podcasts at ronkitchens.com and can be found on Twitter @ronkitchens.