Today we're sharing insight from guest blogger Scott Downes, founder and principal of Thomas LLC, an independent communications consultant. We hope you enjoy Scott's wisdom and perspective.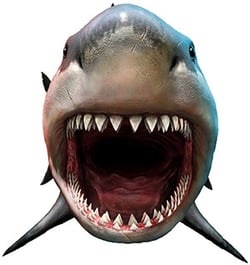 As I was partaking in the annual holiday known as "Shark Week", I thought a recent re-watching of the original summer blockbuster Jaws might provide a worthy metaphor to explore some leadership lessons. Chief Brody, Hooper, Mayor Vaughn, and that old salty dog Quint provide so many pearls of wisdom throughout the movie that I'm sure we could all learn from.
"WELL THIS IS NOT A BOAT ACCIDENT! IT WASN'T ANY PROPELLER! IT WASN'T ANY CORAL REEF! AND IT WASN'T JACK THE RIPPER! IT WAS A SHARK." - HOOPER
Evidence matters. What you do with that evidence and whether you're willing to listen, learn, and adapt as a result matters just as much.
When Mayor Vaughn quietly changes the medical report after the first fatal shark attack, to stave off panic and preserve summer tourism revenue, he's denying evidence and compounding what was already a challenging problem.
We all are guilty of picking and choosing what evidence we acknowledge and listen to, but a hallmark of strong leadership is being able to approach evidence, data, and new information with clarity, transparency, and honesty.
"SICK VANDALISM! THAT IS A DELIBERATE MUTILATION OF A PUBLIC SERVICE MESSAGE. NOW I WANT THOSE LITTLE PAINT-HAPPY BASTARDS CAUGHT, AND HUNG UP BY THEIR BUSTER BROWNS!" - MAYOR VAUGHN
Always focus on what matters most, or else you risk exacerbating the original problem.
Mayor Vaughn was worried about some meaningless vandalism while a giant shark was literally eating people who were playing on the beach. It was denialism at its finest.
While superficial challenges might be symptomatic of some deeper root problems, it's far better to avoid getting distracted and stay dialed into the real work.
"I JUST WANT TO KNOW ONE THING - WHEN DO I GET TO BECOME AN ISLANDER?" - ELLEN BRODY
Belonging matters, and it especially matters for teams and organizational culture.
While the Brodys embraced island life, it wasn't exactly reciprocated. The mayor and his cronies big-footed Chief Brody's early on attempts to mitigate the threat of shark attacks and reduce the likelihood of making Amity a territorial feeding ground. Yet Chief Brody shouldered a lot of the town blame, in the form of Mrs. Kintner's right hook.
It makes you wonder what could have gone differently if the Brodys weren't viewed as outsiders.
The value of ensuring people on your team feel like they belong and feel like they're part of something beyond themselves is paramount.
"THERE'S TOO MANY CAPTAINS ON THIS ISLAND...MR. HOOPER, I'M NOT TALKIN' ABOUT PLEASURE BOATIN' OR DAILY SAILIN', I'M TALKIN' ABOUT WORKIN' FOR A LIVIN', I'M TALKING ABOUT SHARKIN'!" - QUINT
When it comes down to it, someone must do the work. Sometimes that means rolling up your own sleeves, and sometimes it means going out on a broken old boat with a raving lunatic to hunt down a man-eating shark.
While some Amity residents were looking for shortcuts to save their summer, the problem would not be solved by a group project or without someone doing the work. And sometimes that's all that matters. It's not all fun and games. It'll get messy.
In virtually any organizational situation, sometimes buckling down and doing the work is all there is.
"I GOT NO SPIT." - HOOPER
We all fear something. Public speaking, heights, snakes, and even giant killer sharks. Acknowledging those fears and coming to grips with how you can work through or around them is critical to how we lead and how we work.
Hooper was so scared to go in the shark cage that he literally couldn't summon any saliva to clear his goggles. Yet he found the courage to do what needed to be done.
Confronting your fears, or at least being aware of them and acknowledging how it affects your work, is a core leadership necessity.
"IT'S ONLY AN ISLAND IF YOU LOOK AT IT FROM THE WATER." - CHIEF BRODY
Perspective matters and being able to see yourself in someone else's shoes helps. Not everyone has the same skill set, not everyone is equipped to do the same type of jobs.
When Chief Brody offered this drunken insight to counter Hooper's disbelief that a man afraid of water would live on an island, he was just talking about perspective.
Leaders, teams, and organizations are all capable of losing perspective. We get entrenched in our biases, we get bogged down in the day to day, and we struggle to find empathy for others.
True effective leaders and teams find a way to get some perspective - and maintain it.
WHAT'S THE RISK?
Spoiler alert! Quint dies.
And it's pretty gruesome.
And he almost gets his whole crew killed, but for one well-timed rifle shot.
But they finally got the shark.
The risk is what happens if you don't do these things - if you dismiss evidence, if you don't focus on what matters most, if you ignore your team culture, if you look for shortcuts or aren't willing to do the work, and if you can't face your fears?
If you don't do those things, it might be the difference between the shark getting you and you getting the shark.
This content was written and shared by guest blogger Scott Downes.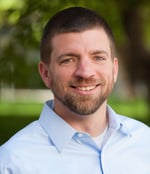 Scott Downes is an independent consultant specializing in strategic communications, research, and writing, primarily working with foundations, nonprofits, and other social sector organizations. Scott has nearly 20 years of experience managing complex projects and campaigns in the nonprofit, public, and political sectors. An Indiana native and graduate of the University of Notre Dame, Scott now lives in Denver, CO.