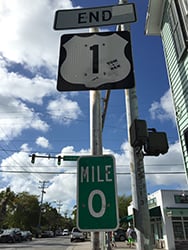 Have you ever visited Mile Marker Zero in Key West, Florida? It's at the end of Highway 1, a road that starts in Fort Kent, Maine, and travels approximately 2,300 miles down the East Coast to the intersection of Fleming and Whitehead Streets in Key West.
At the top, the sign simply reads "End". Yet I doubt many people visiting Key West think of it as the end. In fact I bet it's the beginning for most. It signals that their vacation has begun and good times are ahead.
With "the beginning" of Highway 1 in Fort Kent, Maine, travelers are greeted with a sign proclaiming it a "Historic Land Marker" and reminding them to turn right for the Canadian city of Clair, New Brunswick. If you're visiting in April, the average low is 26 degrees with some snowfall still expected. Just in case you wondered, the average low in Key West for April is 72.
Which one generates more excitement, the beginning or the end? I'm going to say 98.3% of you would pick Key West, the supposed "end". So it's really a matter of perspective, right?
How often do we live our lives this way? We let labels and circumstances determine our story rather than owning the outcome ourselves.
Your role at work changes
It's the end:
It's not fair!
What will people think?
I might quit.
It's my beginning:
I was overextended and can better tap into my strengths now.
It's an opportunity to master new things and increase my value.
I can learn from my new team members.
You lose a key customer
It's the end:
I can't believe they did that!
It wasn't my fault.
There goes my year.
It's my beginning:
What could I have done differently?
How can I get better based on what I've learned?
I've got capacity for new business.
You didn't get the promotion

It's the end:

I can't believe they didn't pick me!
I let my family down.
I'm so jealous she got the job.
It's my beginning:
I can learn where I need to improve.
Now I can apply for a different role.
I'll find something I'm even better at.
What's The Risk?
The risk is losing ownership of your story. As Key West's most famous writer once penned in The Sun Also Rises, "Don't you ever get the feeling that all your life is going by and you are not taking advantage of it?"
Ultimately you own the outcome. Is your "Mile Marker Zero" the end of the road? Or are the good times just beginning?