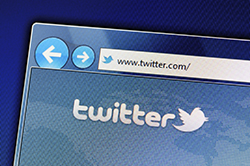 500 million Tweets are sent each day. That's a lot of conversation. Should you be a part of it?
Twitter can be a useful social network for companies and individuals. It provides opportunities for brand building, brand awareness, customer service, driving website traffic, content sharing, and more. But how do you know if it is the right social media platform for you and/or your company?
Should Your Company Be On Twitter?
Think about what you want to accomplish with social media. Take time to explore Twitter and learn about how it works. Look at whether your goals and capabilities match that of Twitter. Here are some things to consider when determining if your company should be on Twitter:
What are the demographics of your target audience? Do they match with the demographics of Twitter users? According to the Pew Research Center, 18% of online adults use Twitter, as compared to 71% who use Facebook. Adoption levels are highest among young adults, ages 18-29. It is more popular in urban and suburban regions than rural areas. But there isn't much of a trend by household income or education level.
Are your competitors or industry peers active on Twitter? Visiting their Twitter page can help you see what they're doing. You might discover how your company is missing out on great interactions and communications, or you may spot opportunities for your company to take the lead.
What are your goals? What do you hope to get out of it? Twitter is a way to get your message out quickly. But they need to be short messages; you are limited to 140 characters. 46% of Twitter users are on the network daily. You need quick messages and you need to send them often. Tweets with photos are 35% more likely to get retweeted, and those with videos are 28% more likely – will you have ways to incorporate photos or videos into your messages?
Do you have the capability to maintain a Twitter account? Do you have someone who understands Twitter, or who is willing to learn? Do they have adequate time to put into preparing content and interacting with users?
What are the risks? With any social network, there are risks associated. But social media has transformed the way consumers get data, research products, and search for answers. Therefore, there are also risks associated with NOT using social media for your company. As you determine whether or not your company should start a Twitter account, be sure to take a look at the risks of social media, and the risks of not using it.
Should You Be On Twitter?
Do you think Twitter is only for millennials? Do you vow to just stay away from social media? Why not give it a chance! Twitter can be a great resource for you to build your personal brand, stay up-to-date with tailored news streams, connect with thought leaders, share your own content, and promote awareness for your company.
Still skeptical? Perhaps you start by simply exploring Twitter. You could create an account and first focus on seeing how others use it…then determine if you are ready and interested in becoming an active user.
What Is Needed To Make Twitter Use Worthwhile?
There are 2 additional elements needed to make Twitter worthwhile for you and/or your company:
You must be willing to learn how to use it properly, and
You must be willing to put in the effort to maintain a relatively active account.
For both company and personal accounts, if you aren't willing to learn how to use Twitter properly, then perhaps it is not the network for you. There are users waiting for your mistakes. There is actually a user who looks for people who have used "sneak peak" when they mean "sneak peek," and alerts them to their mistake. And then there are the very experienced users who may become annoyed with you or you brand if you incorrectly use hashtags.
Don't let other users turn you away from Twitter. There are an abundance of resources available to teach you the basics. The Twitter Help Center is a great place to start. If you don't take the time to learn the basics, you are not likely to get as much value out of the network.
Twitter is fast. Extremely fast. Tweets are popping up every second. You don't have to be tweeting all day long, but you do need to be committed to keeping your account active. If you hardly ever engage on Twitter you aren't going to get the full benefits of the network.
Consider using a scheduler. You don't want everything to be scheduled, but resources such as

Hootsuite

and

Buffer

are great ways to consistently share content…without taking up all your time! One day a week, take time to find interesting content. Prepare posts related to the content and schedule them to be shared 1-2 per day.
Schedule…then add in some personal activity. Even if you are scheduling a few pieces of content to be shared each day, you need to put in a little personal time to respond to users who have mentioned or replied to you, retweet messages, etc. It may take some trial and error, but find a way that works for you to catch up Twitter. It could be setting aside a few minutes each morning or perhaps a lunchtime routine.
Twitter may not be the right social network for everyone, but take time to consider these points when deciding whether or not you and your company should join the conversation.
If you are interested in learning more about Twitter, check out these 9 twitter tips.