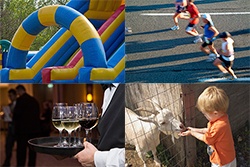 Whether you are a nonprofit hosting numerous events a year or a business planning a one-time function, it is important to understand the risks associated with special events. From a small open house to a large scale festival, special events can expose your organization to added risks.
Your organization hosts a festival with carnival games, a bounce house, and a petting zoo. What happens if a child gets hurt in the bounce house? Or what if they get bitten by an animal in the petting zoo?
Your company is celebrating their 50th anniversary with a gala – dinner, drinks, dancing. What if an attendee causes damage to the venue? What if a guest drinks too much and gets into a car accident?
The list of "what ifs" could go on. There are countless ways things could go wrong. When you're planning an event you already have a long to-do list. But you can help reduce the worries of these "what ifs" by taking a proactive approach to risk management.
Your general liability policy may not be sufficient to cover a special event. The event may be held offsite, there could be activities outside the scope of your normal business operations, and there may be attendees who don't generally interact with your organization. All of these factors could potentially exclude the event from your current liability coverage. A special event policy is intended to help fill the gaps and protect you from the unique risks associated with special events.
How do you know if you need a special event policy? When planning a function, reach out to your risk advisor for guidance. Let them know the basics – what type of event, where it will be held, how many attendees you anticipate. They can direct you on whether your event falls within your current policies or if you need to start an application for a special event policy.
When pursuing a special event policy, be ready to provide event details to your advisor. This can help tailor the coverage to your specific needs. You could be asked questions such as:
How many attendees are expected?
Will there be security?
Where will the parking be – on or off premise?
Will there be

alcohol served

?
Will there be activities such as amusement rides, animal rides, climbing walls, racing, fireworks, inflatables, and petting zoos?
Are there going to be food vendors?
Are you using bleachers? If so, are they permanent or portable?
Don't wait until the last minute. Consult your risk advisor at least a couple of weeks before the event. It can take time to obtain a policy. Carriers may request additional details about your event before they consider approval. And some carriers will not provide policies when certain activities are involved. For example, a carrier may refuse to insure events involving bounce houses. Your risk advisor will then have to shop around and find a carrier who does allow inflatables.
The cost will vary based on the risk factors associated with your event. If you have a larger number of attendees or particularly hazardous activities, you would generally experience a higher premium.
If you host this type of event on a recurring basis, some carriers may allow it to be included in your general liability policy. But when your function is something new to your organization and is outside the scope of your usual business operations, you should consider a special events policy.
Not every event will require a separate policy, but in order to protect your organization it is important to understand the exposures and make sure you have proper coverage. Checking in with your risk advisor should become a regular part of your event planning to-do list.