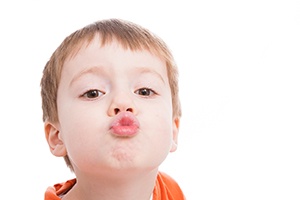 Everyone has probably heard the acronym K.I.S.S. (Keep It Super Simple) made famous by the U.S. Navy in the 1960's. It was used to gently remind people to work towards simplicity in design and process rather than falling into the trap of over complication. Even though this acronym has permeated into several facets of life and business, it is a skill set that many forget and few are able to master.
Having a communicative and opinionated 4-year-old has taught me the tremendous value in this concept. In the past, one of the greatest battles would ensue first thing in the morning with the discussion of breakfast. We used to ask my son what he wanted for breakfast until his responses became cookies, cake, and Doritos (surprising right?). So, we thought it would be a good idea to still ask him his preference, BUT outline his choices. The discussion would go as follows:
"Hey Bud, what did you want for breakfast? Do you want eggs, bacon, sausage, cereal, toast, or fruit?"
"I want cereal...no eggs.... ummmmm...I want toast."
The result would be an indecisive mess in which what was eventually made for him, he probably didn't want or eat. This was a tough issue for my wife and I. We wanted to nurture his independence and foster an environment of freedom of thought and opinion, BUT we did not want to continue down this road of "made-to-order" madness.
We then got the brilliant idea to limit his choices to only two. We would still be accomplishing all the goals we had in mind of empowering him with decision-making ability, but limit the hassle and indecisiveness. The result was a blissful breakfast for all parties involved. We have translated this same idea to much of our parenting techniques giving him only a couple of choices, rather than the whole world of possibilities open to him.
Now, to some "expert" parents this may be a given...but for the other 99% of the parenting population this can be a struggle. It is a struggle because quite frankly, SIMPLICITY is HARD. Our brains constantly seek out stimulation, our brains LOVE to be busy. Our brain keeps busy by solving, deciding, and iterating various background tasks that we aren't even aware of. So even if a problem seems simple, our brain will conclude that "it can't be that simple" and proceeds to over complicate it.
We have all had that experience during any kind of test, where we know the answer initially and we OVERTHINK the question and change our answer only to get it wrong. This is the same thing we often do with business; we over complicate things in an effort to be "everything for everybody."
We marvel at companies like Apple, Amazon, and even the father of fast food; McDonald's, yet we forget that these companies began with very limited offerings. Apple began their company offering ONE computer, Amazon began selling only books online, and McDonald's offered three food items and only a handful of beverage options. Once these companies mastered their products, only then were they able to effectively expand their offerings.
Even companies who excel at simplification can still fall prey to the over-complication plight and fall flat on their face. Anyone remember the McWraps at McDonald's? It was an "OK" idea (I liked them well enough), BUT they were incredibly labor-intensive to prepare - employees had to steam the tortilla, chop the ingredients, stuff and roll the wrap, and fit it inside a cardboard sleeve - and added to the stress already placed on employees caused by the addition of all-day breakfast. On the flip-side, something as SIMPLE as McDonald's offering of breakfast all day caused revenue to jump globally 4% in their first quarter of offering it.
Here are my three key Keep It Super Simple (KISS) takeaways to help you and your business…
Jacks of all trades rarely become kings in business. Figure out what either you or your business does better than the clear majority of your competition. Seek to improve and capitalize on that advantage. This does not mean that if you sell snowboards, you should avoid selling snow boots. Understanding complementary products/services goes a long way as well as understanding yourself, which brings me to my next point…


To thine own self be true. Knowing yourself and your business takes time and focus. Once that self/business awareness is created, you will be able to make more meaningful business decisions with more strategic insight. Gary Vaynerchuk (entrepreneur, author, speaker and internet personality) agrees that self-awareness is one of the most important attributes a person/business can have. In an interview with Inc. Magazine, Gary mentions that "self-awareness allows people [businesses] to recognize what things they do best so they can then go hard on those aspects of their life [business]. It also helps you accept your weaknesses."


Keeping it "in-house" can sometimes strain the foundation. Time is a finite resource that plagues every business owner and executive. Finding ways to outsource some aspects of your business may be an option to free up some time AND human capital that could be redeployed to more crucial aspects of BUILDING the business. Executives and business owners especially can fall victim to spending too much time working IN their business rather than ON their business.


What's The Risk?
The risk is in overthinking and over-complicating. In doing so, you can lose sight of what truly makes you and your company unique. Without stopping to remember simplicity, you will struggle to maintain a clear vision of what steps are needed to reach your goals.
So, go out there and be great, and don't forget to K.I.S.S your business - and your family, too! I will translate that to my 4-year-old son to hopefully slow down the emergence of grey hairs that seem to multiply with each child.