Today we're sharing insight from guest blogger, Gravitas Impact Premium Coaches. We hope you enjoy their wisdom and perspective.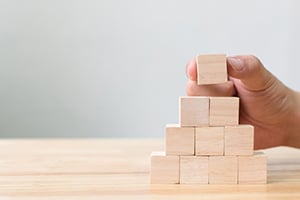 Have you ever heard of the "Impossible Task"?
It's a term you likely won't find in any peer-reviewed journal, but you may be familiar with it. It actually grew out of a viral Twitter thread from back in August and is used to describe a symptom of depression where seemingly simple tasks — such as folding that pile of laundry, paying a bill, or even responding to an important email — suddenly become impossible to complete for no reason at all. You have all the tools. You know what needs to be done. You may even be fully aware of the simplicity of it, but you just. Can't. Do it.
How often do businesses find themselves with a similar problem when it comes to execution? You have your strategy, your team, and your map. You know what needs to be done, but you just can't seem to get out of the strategy phase. As it turns out, the answer is "a lot."
The folks at Sopheon report that nearly two-thirds to three-fourths of businesses struggle with execution. On top of that, the Harvard Business Review has reported findings from a study that showed execution excellence as *the* biggest challenge facing corporate leaders (topping a list of roughly 80 other issues).
So, what gives? Why is execution such an impossible task for businesses? To uncover the answer to this problem and provide some guidelines on how to overcome it – we spoke to a handful of our Gravitas Impact Premium Coaches about their personal experience in dealing with execution struggles. Here's what they had to say.

Root Causes: Too Many Hats, Misaligned Priorities, No Rhythm, & More
Patrick Frazier, Gravitas Premium Coach and Executive Coach at The Coaching Authority, brings a dual perspective to the table. As both an accomplished coach and a small business owner, he understands the execution gap on multiple levels.
"Execution is all about setting priorities, establishing metrics, and communication routines," he says. "As a small (growing) business owner myself, I often find myself with too many #1 priorities and goals/rocks without solid metrics. As for my clients, they suffer from the same things."
Frazier says that execution problems often boil down to one person trying to do everything at once, whether it's marketing, sales, finance, customer service, etc.
"Growing your business requires that you where many hats. Just about the time you get comfortable with the role, is the same time you need to hire someone to do that role because YOU become the constraint for growth. The CEO can't do it all, but often feels like they HAVE to do it all because they can't afford to hire someone to do it."
Adding to Frazier's points, Graham Mitchell, another GI Premium Coach and founder of South Africa's GROW, brings up two additional obstacles – the first being a lack of rhythm in meetings.
"The biggest obstacle to effective execution is a lack of pre-set meeting rhythms to progress towards set objectives and to provide time for a team to analyze and make mid-course corrections to ensure achievement of the objectives," Mitchell says. "Without committed meeting time to check in on progress, key objectives get sidelined to the more pressing day-to-day challenges."
He believes that too many businesses approach the actual work as a 'tick box exercise' where team members see the objective as tasks that need to be completed, rather than focusing on the measurable outcomes of the performance of the business.
Like Frazier, Mitchell connects these problems to leadership issues at the top, adding that management teams often feel that they simply don't have the time to manage progress against set objectives.

Addressing Execution Problems Head On
With these obstacles in mind, what action should a leader take next?
When dealing with these issues directly, Frazier says the job of the coach is to help the leaders clarify success measures, skill requirements, and business essentials. Or, to put it simply, take a deep breath and focus on the specific steps. "We help them break down goals, develop objectives, identify obstacles, determine possible solutions, and identify action steps," he says.
Mitchell echoes the same solutions. "Leaders need to ensure that team members have debated potential objectives robustly and have fully committed to achieving the set objectives," he says. "Existing team commitments need to be considered to ensure that the team has capacity to act on new objectives."
Of course, the end goal is to prevent these obstacles from taking form in the first place, so you can move from strategy to execution seamlessly. To achieve this, Frazier says the answer comes down to basic planning.
"Clarify responsibilities and define accountabilities," he says. "Establish communication rhythms. Develop trust and the ability to deal with conflict effectively. Assure 'real' commitment. Focus on results. When teams eliminate common dysfunctions, then positive peer pressure exists to perform, execute, and deliver according to plan."

What's The Risk?
The risk is getting stuck in the strategy phase - limiting your organization's ability to grow and develop.
At the end of the day, one could surmise that most execution problems are rooted in the leadership's inability to get out of their own way — whether it's wearing too many hats, a lack of clarity, or even a lack of faith in you team's ability to complete the job.
For leaders, what should be more than evident is the critical need for proper planning and delegation, i.e. knowing what needs to be done, who needs to do it, and how they're going to do it. Take the time to map out your goals, set your priorities, align your team, and draw a path from start to finish with KPI's for accountability.
This content was written and shared by Gravitas Impact.

Gravitas Impact is a worldwide, premier coaching association composed of independent, executive business coaches who assist growth companies around the world.
Connect with them via their website, Facebook, LinkedIn, and Twitter.