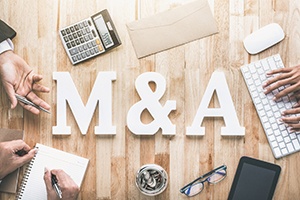 Do you know "who" and "what" you are getting during a merger or acquisition and have you done your safety due diligence? If your organization is in the process of an M&A, a question to ask yourself is: Does environment, health, and safety (EHS) and sustainability have a seat at the M&A table? If not, you'll likely miss out on valuable insights that can help ensure a smooth process from start to finish.
It's no secret that due diligence is a critical step in any transaction. This helps to ensure all parties have a full understanding of the liabilities and risks associated with the deal. However, EHS liabilities are often overlooked in a variety of areas including:
EHS operational permitting and compliance: Business continuity post-acquisition is essential, and EHS permitting can create barriers and interruptions if not evaluated during the due diligence period. If your plan calls for ceasing, moving, or expanding operations at a facility, permits requirements can be impacted, posing liabilities or interruptions.


Health and safety compliance: Considerations for successor liability under OSHA, follow-up inspections, repeat citations, and obligations a new employer may assume because of past conduct by a predecessor employer are key. Do not neglect the requirements to transfer and retain a predecessor's safety records.

Unique cultural nuances: If you're planning an international merger or acquisition, cultural competency is a must as you'll likely encounter unique customs, expectations, or barriers that go beyond compliance. These nuances could include: understanding the local views on the role of women in the workplace, working with the culture of time, and dealing with any social risks unique to the area.

Business liabilities: Often overlooked is the potential for EHS liabilities associated with previously owned properties--reviewing current assets alone may not capture some of the most material liabilities lying dormant. For example, a document review might uncover a previous operating address where high volumes of chlorinated solvents were used with no record of environmental investigations. As a result, a significant risk can be avoided, since a buyer may have been exposed to liability should any contamination issues come to light.

Third-party risks: EHS risks associated with impacts to third parties are often the most significant in terms of their material impacts on a deal. Product liabilities (e.g., products containing PFAs, or environmental exposures to building products for example) are good examples of third party environmental risks that have the potential to dwarf more traditional risks associated with a transaction.
Other EHS due diligence topics that should be addressed include current EHS management systems and EHS triggers associated with lease exit provisions. By leveraging your in-house team, or an EHS consulting firm's expertise during the due diligence phase, you can get a fuller picture of potential risks and roadblocks as well as proactively plan for what needs to happen after the deal is signed.
From assessing the current state of a potential asset's program and culture, to proactively developing an implementation roadmap, an EHS expert can help ensure a smoother transition for employees, and better manage risks and compliance. One thing to remember about blending safety cultures after a company merger or acquisition: It takes time, that means years.
EHS programs are most successful when they're rooted in company culture. However, when it comes time to bring a newly acquired asset into the company fold, many organizations are not prepared to integrate their EHS programs.
When incorporating a smaller company into a broader corporate family, you often find that lack of resources or desire on the part of the previous owners resulted in little or no EHS presence. For larger acquired companies, the EHS situation can range from disorganized to fully embedded and unique to their organization's subculture.
Challenges and opportunities that come with either scenario can be more effectively addressed if EHS professionals are looped in from the beginning. With the right approach, organizations may be able to use mergers and acquisitions as a springboard to improve worker safety, reduce potential exposures, and limit liability.