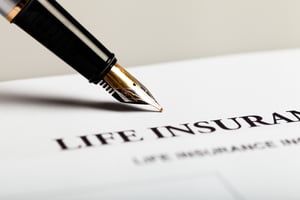 Life insurance is one of those necessary evils that many of us don't like to think about. While you hope you never need it, the chances are at some point you will. Life insurance is a wonderful way to help protect your family's financial future whether you have a spouse, kids, parents that depend on you for financial support, or just debt. Life insurance provides a tax-free benefit to fulfill your needs, and those of your family, should you pass away andcan help your family pay for, and pay off, expenses such as:
Funeral cost
Uncovered medical expenses
Mortgage
Loans and credit card debt
College funding
Retirement funding
Ongoing living expenses for your dependents
Employer Covered Life Insurance
Many individuals have some life insurance coverage through their employer. However, it's important to remember that it typically is not enough to take care of the financial needs of those you leave behind, is not portable, and is subject to change. Keep in mind that the determining factors in cost of independent life insurance is: gender, age, weight, health and personal habits. Individual life insurance should be purchased at a younger age because of the increase in premiums as you grow older. Don't wait until you don't have coverage through your employer or it might end up costing you.
How Can Life Insurance Help Your Business
Life insurance can provide a solid financial solution for businesses of all sizes. Business owners can use life insurance to protect their company, family, partners, and key employees should they die. It can also be used as a valuable benefit to attract and retain top talent and build loyalty.
Business life insurance considerations include:
Buy sell funding
Estate equalization
Key person
Executive bonus
Executive life
Types Of Life Insurance
Term: This is the least expensive and provides a death benefit and a level premium for a certain time, usually 10-30 years. Term life is the most popular form of insurance for temporary needs.
Permanent Life: This coverage has a fixed premium that is not set to expire in the future and will usually have a cash value. It will be more expensive than term since the rate remains constant and there is a cash value accumulation.
Where Do I Go From Here?
When shopping for life insurance, work with an independent broker who has the experience and expertise to help you obtain the most appropriate coverage for your needs.
Once you've determined what life insurance you're going to move forward with, you'll need to submit an application along with a medical exam that includes medical history and usually a blood draw. You will then be approved at a cost determined by your application and medical exam or possibly declined.
You can then relax knowing that your family, and business, is in good financial hands when you're gone.