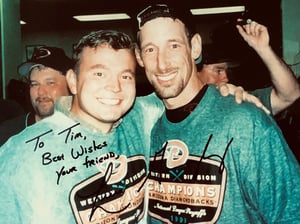 Twenty years ago my wife and I were about one month into our new jobs after a cross country move to Arizona. I had just turned twenty-five and was figuring out the pecking order in the highly competitive sales focused culture of my new company.
Our firm was the dominant insurance provider in Phoenix. We worked with most of the major sports teams and that came with a reciprocal understanding that my company would be an active supporter of the teams through advertising and purchasing suites.
On Friday morning, September 24, 1999, news came that our office head had suffered a mild heart attack. He was going to be okay, which we were all thankful to hear. Not long after I observed many of our senior people huddling and excitedly talking about "the trip." I got up from my desk to see what was going on.
That fall, our new baseball team, the Arizona Diamondbacks, had been on a tear. Just one season removed from losing nearly 100 games, they were in a position to possibly win 100 games. The Diamondbacks had one of the classiest team owners in all of professional sports, Jerry Colangelo. Although they may have squeezed their service providers to buy suites, his teams routinely took major advertisers and supporters on road trips for a one-of-a-kind show of gratitude.
The trip being discussed was one of these boondoggles. The Diamondbacks had the opportunity, just a year removed from being an expansion team, to clinch their division during a road series at Candlestick Park in San Francisco. The team plane was scheduled to leave shortly after lunch and our office head and his wife would be representing our company over a three day weekend. Great seats, a division clinching baseball game, fully paid weekend in San Francisco with amazing food and amenities…Are you kidding me?
Someone had to take his place. As his executive assistant made her way down the informal, but known hierarchy list in our company, she was struggling to find a replacement. Sure, everyone wanted to go, but getting packed, securing childcare for the weekend, and catching a plane scheduled to leave in a few hours was proving daunting to everyone. Well, not everyone.
Enter the new guy. I was certain this opportunity wouldn't make it to me. But what if it did? I knew I wouldn't have much time to react if it became a reality. I began to prepare as if it would. I called my wife and told her it was a longshot, but we might just have a chance to take part in an amazing weekend in San Francisco. As the more cautious one in our relationship, she said she doubted her boss would let her. I convinced her to ask. If he knew the whole story, there is no way he would say no! Next, she said she couldn't make it all the way to our house to pack and be back to the airport in time. No problem, I would pack for us! I slipped out of the office and drove home. Somehow over the phone she was able to guide me through an array of clothing options and make-up and skincare necessities. We were packed!
I had also begun dripping my interest and availability to the executive assistant. I showed genuine concern for her boss' health and tried not to seem too eager or opportunistic. We both knew I was dead last on the ask list. With a chuckle, she had said, sure, she'd keep me in mind. On my way back to the office (and airport), suitcases in the trunk, the call came in on my walkie-talkie sized cell phone. The last option was in fact the only option. She wanted to know if we could represent our company. Forty-five minutes later we were boarding the team plane; riding with a few wives and girlfriends, minority owners, and our hosts from the organization.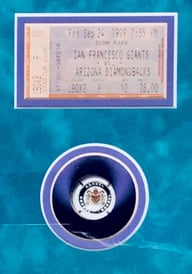 The Diamondbacks won the first game of the series that night and clinched their division. It was the last series ever played at Candlestick Park, as a new stadium was being built for the Giants. And if the excitement of the win wasn't enough, our group was asked to join the team inside the visitor's locker room after the game to help them celebrate. Pinch me, please!
In the moment, I reached down and grabbed the Korbel cork off the floor from the bottle Jerry Colangelo had just popped. A few minutes later, donning a champagne soaked "Division Champs" t-shirt, with a disposable Fuji camera in tow, I was able to get a picture with rising team star Luis "Gonzo" Gonzalez (later autographed through the help of one of the team employees I had met on the trip). What luck!
What's The Risk?
Thanks for indulging me in telling a favorite memory from our years in Phoenix. This also brings me to the point of this blog: the role of luck in explaining the divergent success trajectories between similarly positioned companies and people.
After going through Jim Collins' Great By Choice again recently, his theory about Return On Luck (ROL) really resonated. He and his partner studied what they described as "10X" companies, including local organizations Stryker and Biomet, and compared them to successful peer companies. One of the key areas of research included determining how much of the success (or failure) was owed to good or bad luck.
What he found was that the comparison companies had no more or no less luck. They all faced a similar number of bouts with bad luck (such as a new government regulation right as they were introducing a new product) or good luck (a competitor faltered, opening a new market). What was unique was the high return on luck experienced by the 10X companies.
The evidence showed that luck does not cause 10X success, but rather people do. And they were able to boil down high returns on luck to the following three things:
Persistently prepare: Be ready to take advantage of your good luck. Create margin so that when the time comes, there is enough slack so you can capitalize on it. Don't live so close to the 'death line' that bad luck knocks you out of the game. Stay persistent, because good luck eventually returns.


Fire bullets, then cannonballs: Experiment with bullets. Test and retest before using major resources. Hold your cannonballs back until you've got things dialed in.


Build relationships with the right people: Carefully foster authentic, mutual, and enduring relationships with great people that would literally risk their life for you and you for them.
While my story about the weekend in San Francisco really was lucky, I can see threads of the above in it. And as I think of personal and business successes I've experienced over the years, Collins' formula rings true.
How about you? Are you positioned to capitalize on luck when it comes your way?
After all these years, just in case one of the amazing hosts from the Diamondbacks, an old colleague who suffered from schedule challenges that weekend, or maybe, just maybe, Gonzo or Jerry C get their hands on this blog, I want to say 'thank you' for one of the luckiest days of my life!