Today we're sharing insight from guest blogger Shery Roussarie, President and CEO of Allied Physicians of Michiana, LLC. We hope you enjoy Shery's wisdom and perspective.
Two recent experiences have caused me to think about the legacy I am building. Is it a legacy where people will speak fondly of me, or will it be a celebration the likes of which hasn't been seen since Dorothy's house landed in Oz?
The first of these experiences was at Notre Dame's annual President's Breakfast. This year's event concluded with a special tribute to John Affleck-Graves, retiring Chief Financial Officer of Notre Dame since 2004. It just takes a quick Google search to see the significant impact Dr. Affleck-Graves is leaving on Notre Dame and the financial development of the region.
What is hard to convey in an online search, or even in a sentimental tribute, is how he makes you feel. Should you have the good fortune to meet Dr. Affleck-Graves, you would indeed come away feeling blessed. He is one of those rare individuals who fully engages in the conversation at hand without regard to the status, title, or role of the person with whom he is speaking. Whether you are the president of the university or a little-known attendee at a breakfast.
The second encounter came as a story from a friend at church. He is taking a short trip to join people from around the country coming together to honor a woman who is retiring after 30 years of service to the same company. His words were, "They will not be able to find anyone to replace her." He went onto explain that someone else could fill the role but her particular skills of connecting and supporting others could not easily be replaced. He has never experienced another such as his mentor.
Glenn Llopis, in a Forbes article, identifies eight qualities of extraordinarily memorable leaders:
They are authentic. No games. No power plays. Rather they encourage those they lead.
These leaders are willing to share their wisdom, translated: experience, the ups and the downs.
They support you in ways other leaders don't or won't: they will support the advancement of your career.
They embrace the lessons of failure, understanding that failure is not fatal.
They find the time to listen.
They are aware of and in tune with the politics and tensions that arise within an organization and quickly create special moments: acts of kindness, action plans of support.
They make those around them feel valued.
These leaders work toward a "healthier whole."
I can leave a mark or I can leave a legacy: "Ultimately, it is the leader who strives to have an impact that is bigger than just themselves who will be the most memorable," says Llopis.

What's The Risk?
According to Jim Collins, the risk is that these leaders are rare. Only 11 out of the 1,435 Fortune 500 companies made the cut of great companies to be studied for his book Good to Great. All eleven had what Collins terms Level 5 leadership. None of these are the "larger than life heroes" we so often see on the news making the loudest noise or rattling the biggest saber. Rather these are people quietly valuing, supporting, and promoting those around them. We can either bash heads to get the results we demand, leaving emotional wrecks in our wake, and likely watch the work we've done end with our reign; or, we can build a legacy of a strong company and strong leaders in whose hands we place our delicate work.
This content was written and shared by guest blogger, Shery Roussarie.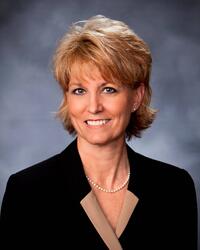 Shery Roussarie has been the President and CEO of Allied Physicians of Michiana, LLC, since November 2007. Allied is an independent, multispecialty medical group in North Central Indiana comprised of 54 surgical, medical, and allied health providers. During her tenure with Allied, the company has grown in services, scope and reach through developing leadership and collaborating partnerships with local hospitals, payers and employers. Ms. Roussarie led the organization through a construction project which repurposed an old shopping center into a vital, vibrant medical complex. For this project, Allied was honored with a St. Joseph County Chamber of Commerce 2012 Economic Impact Award.
Ms. Roussarie received a Bachelor of Science degree from Texas Tech University and Master of Healthcare Administration and Master of Business Administration from University of Houston – Clear Lake.
Prior to joining Allied, Ms. Roussarie was the Administrator of several Independent Practice Associations with North American Medical Management in Houston and later became the Regional Vice President of the Arizona market. In 1999, she moved to South Bend upon accepting the position of Chief Executive Officer of Select Health Network / Executive Vice President at Saint Joseph Regional Medical Center.
Ms. Roussarie's business philosophy is "start with yes" and is anchored in servant leadership.
Connect with Ms. Roussarie on LinkedIn. Connect with Allied Physicians of Michiana: LinkedIn, Facebook, and Twitter.